05/02/2022
Sarah Zimmerman Receives the Yanowitz Award for Outstanding Young Community Leadership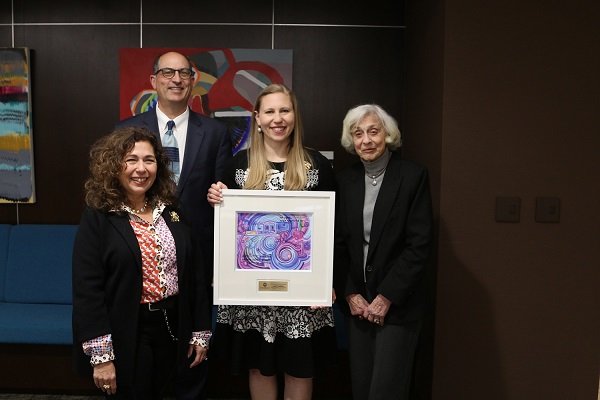 The Jewish Federation of Cleveland announced that Sarah Zimmerman has been awarded the 2021 Bennett and Donna Yanowitz Leadership Award, which recognizes and honors an outstanding young individual who has demonstrated commitment, involvement, and leadership within Cleveland's Jewish community. She received the award at the Federation's Board of Trustees meeting on April 27.
"It is an honor to receive such a prestigious award and I am truly humbled," said Zimmerman. "In today's world it is immensely important to support our local and global Jewish community. Our work has just begun, and we must work to overcome the obstacles we face as a people. I feel more motivated than ever to continue my volunteer efforts and look forward to being an active participant in this community for many years to come."
Zimmerman, 40, has served the local and global Jewish community in a variety of capacities. She is a member of Federation's board of trustees, as well as the nominating committee and endowment fund committee. She has previously served as co-chair for community-wide projects, including Super Sunday and Yom Ha'atzmaut, both of which bring together more than 1,000 community members annually.
Zimmerman is also involved in the national Jewish community as a member of National Young Leadership Cabinet, the Jewish Federations of North America's elite leadership training program for young adults. Locally, she serves on the board of Gross Schechter Day School as a vice president and is a member of Jewish Community Housing.
"Sarah is quite accomplished, and she epitomizes what my parents had in mind when they established this award more than 25 years ago," said Alan Yanowitz at the April 27 Board of Trustees meeting. "We know leaders like Sarah do not look for awards, but we feel she deserves to be recognized as she continues to fulfill her civic responsibility in the Jewish and general community through volunteering and steps into leadership roles."
Zimmerman is a partner for Gross Residential. She is an alumnus of Washington University in St. Louis and Shaker Heights High School. The Yanowitz Award has been given annually since the early 1960s. As recipient of the award, Zimmerman is invited to join the Cleveland delegation to a General Assembly of the Jewish Federations of North America.