12/06/2022
Schlang Honored at Federation Women IN Philanthropy Event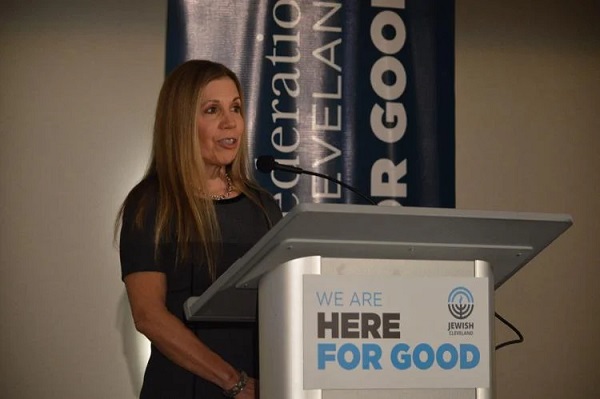 COURTNEY BYRNES | STAFF REPORTER
Article reprinted with permission from Cleveland Jewish News
More than 250 people attended or tuned into the first hybrid Women IN Philanthropy MaIN Event Dec. 1, as they supported the Jewish Federation of Cleveland's 2023 annual Campaign for Jewish Needs, honored Heather Schlang and were entertained by comedy writer Carol Leifer.
As women sat with friends, old and new, at Green Road Synagogue in Beachwood, Women IN Philanthropy chair Jennifer Cohen gave welcoming remarks. She recognized current and past chairs, and introduced the Irene Zehman Volunteer Award presented to Schlang.
"We have a fabulous program planned for you tonight as we honor Heather Schlang, laugh with our special guest Carol Leifer, and hear moving stories from general campaign chair Beth Wain Brandon's visit on her recent trip to Poland," Cohen said.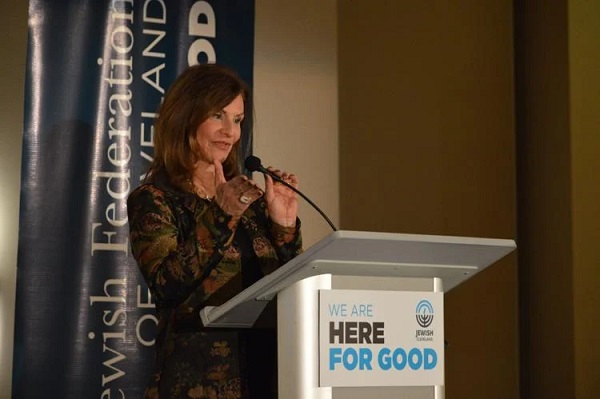 Established in 1980, the Irene Zehman Award recognizes a woman, group of women or a women's organization whose efforts on behalf of the Cleveland Jewish community demonstrates the highest ideals and practices of volunteer service, according to the Federation. Schlang was chosen as this year's recipient for her work through the National Council of Jewish Women/Cleveland's Share What You Wear program.
In her acceptance speech, Schlang gave thanks to the Zehman family, Women IN Philanthropy, NCJW/CLE and SWYW, and her parents and in-laws.
"Thank you to my parents, Richard, of blessed memory, and Mary Bess Ross, who taught me that hard work and perseverance matters," she said. "Thank you to my in-laws Gail and Elliot Schlang, and most importantly, my husband, Brad. Through them I've learned that philanthropy is not only about financial support but also about personal involvement."
A Lion of Judah for the Jewish Federation of Greater Los Angeles, Leifer shared her journey from growing up on Long Island, N.Y., to her 45-year comedy career working with people like Jerry Seinfeld and Larry David, with jokes sprinkled around to delight the audience.
She told a story from her childhood when her father gave money to a Jewish man on the street and told her and her siblings, "We take care of our own."
"That had so much meaning to me because that really, to me, is my connection to the Federation," Leifer said. "We take care of our own, and what I love about working with the Federation is ... I sleep better at night knowing that the Federation is just not talking the talk, but walking the walk and out there every day."
Brandon followed to provide an update on the annual campaign, with six days left before the closing celebration Dec. 7. She said $30 million had been raised thus far, with an additional $4 million in outstanding pledges.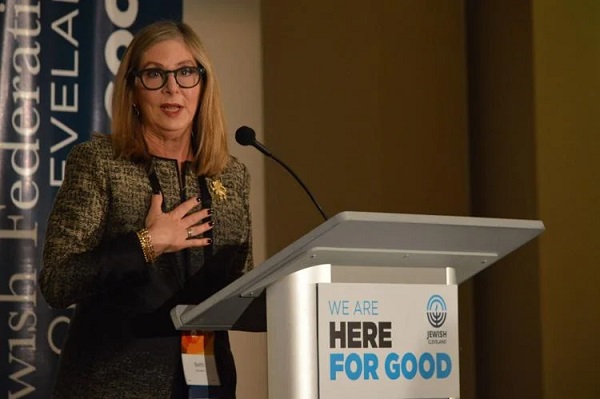 Recently returning from Poland to see the efforts of The Jewish Agency for Israel and the American Jewish Joint Distribution Committee, she discussed the importance of the campaign in supporting these overseas partners. She also explained the two matching gift opportunities, the Brunswick Bonus and the Mandel Match, which supports the Ukraine/Ethiopian Emergency Relief Fund.
"Just as they do here, the needs overseas also continue to grow," Brandon said. "The JDC estimates the costs of $60 to $80 a day to help a refugee in Warsaw. They spend $25,000 a week just on the food that they distribute. Winter is going to increase those needs."
The campaign closing celebration will be Dec. 7 at the Joseph and Florence Mandel Jewish Day School in Beachwood.