03/09/2017
Senators Ask for Action Toward Threats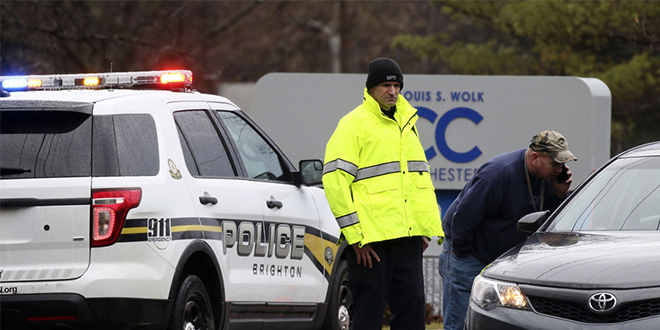 US senators ask for 'swift action' toward anti-Jewish threats
Article reprinted with permission from the Cleveland Jewish News.
The U.S. Senate on March 7 joined the Trump administration in addressing the anti-Jewish threats, calling for "swift action" to end them.
"We are concerned that the number of incidents is accelerating and failure to address and deter these threats will place innocent people at risk and threaten the financial viability of JCCs, many of which are institutions in their communities," stated a letter signed by all 100 members of the Senate, including Ohio Senators Sherrod Brown, D-Cleveland, and Rob Portman, R-Cincinnati.
The letter – which was addressed to Homeland Security Secretary John Kelly, Attorney General Jeff Sessions and FBI Director James Comey – also called on the nation's top law enforcement officials to communicate with Jewish institutions on "victim assistance, grant opportunities or other federal assistance that may be available to enhance security measures and improve preparedness."
Howie Beigelman, executive director of Ohio Jewish Communities, said in a statement:
"We are deeply grateful to both of Ohio's senators, Rob Portman and Sherrod Brown for their solidarity with us throughout and their enduring commitment to our community's safety. Every member of the Senate has now spoken in one voice, saying we need to catch those responsible and we need to step up efforts to protect vulnerable community institutions. That almost unprecedented unanimity is a testament to Senator Portman's real leadership on homeland security and on this especially. It follows through on his personal commitment to Ohio's Jewish communities, the Jewish community nationally, and to other communities of faith across Ohio."
Steven H. Hoffman, president of Jewish Federation of Cleveland, said in a statement: The Jewish Federation of Cleveland deeply appreciates the support of both of Ohio's senators, Rob Portman and Sherrod Brown, as our community here in Cleveland, across Ohio and nationally has faced unprecedented threats against our institutions. Senator Portman's leadership role in seeking the support of all 100 Senators on today's letter urging the Trump Administration to take action reflects his steadfast support for our community and we are truly grateful."
Former Clevelander William Daroff, senior vice president of The Jewish Federations of North America in Washington, said in a statement:
"The Jewish Federations of North America thank Senators Peters, Portman, Nelson and Rubio for shining a bright light on the scourge of anti-Semitism and hate that is spreading across America. We appreciate that the vast majority of the United States Senate is speaking with one voice to stand against intolerance."
A sixth wave of bomb threats since the beginning of 2017 targeted nearly a dozen Jewish community centers and Jewish day schools across the U.S. and Canada on March 7.
According to reports, Jewish schools and institutions in New York, Massachusetts, Illinois, Wisconsin, Maryland, Oregon, Florida and Alabama were threatened either over the phone or by email. Two Canadian JCCs in Toronto and London, Ontario, also were threatened.
In addition to the JCCs and schools, the Anti-Defamation League's offices in Atlanta, Boston, Washington, D.C., and New York City were all threatened.
"This is not 'normal,'" Jonathan Greenblatt, ADL's CEO, said in a statement. "We will not be deterred or intimidated."
Since the start of January, at least 98 threats have been made against JCCs and Jewish day schools, according to the JCC Association of North America. The umbrella organization said that the incidents have been a mix of in-person, email and robocall threats.
White House Press Secretary Sean Spicer condemned the latest wave of bomb threats Tuesday.
"I want to acknowledge that there's been an additional wave of threats to Jewish community centers and Anti-Defamation League offices," Spicer told reporters.
"I share the president's thoughts that he vehemently hopes that we don't continue to have to share these reports with you. But as long as they do continue, we'll continue to condemn them and look at ways in which we can stop them," he added.
---
Related Items