12/01/2021
Shine a Light on Antisemitism
The Jewish Federation of Cleveland, in partnership with numerous community organizations, recently hosted "Shine a Light on Antisemitism," a special menorah lighting ceremony for the entire Greater Cleveland community. This event, which is part of a national initiative, featured remarks from Global Cleveland President Joe Cimperman, Reverend Sharon Core, General Presbyter of the Presbytery of the Western Reserve, and other community leaders.
Watch the News5 Cleveland clip here >>
Watch the Spectrum News 1 clip here >>
Read the full Cleveland Jewish News article below.
---
Jewish, Non-Jewish Speakers Share Stories During First Night of Chanukah Festival of Lights at Federation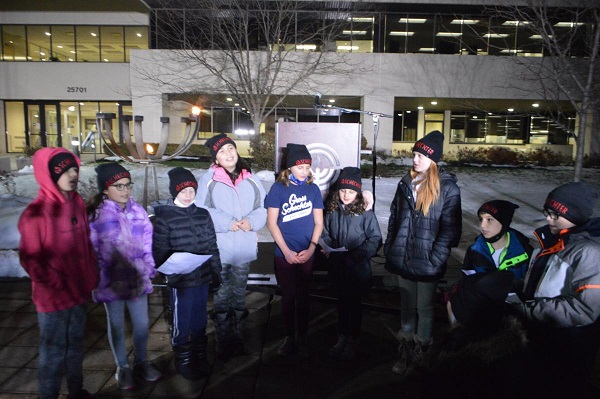 ALEX KRUTCHIK | STAFF REPORTER
Article reprinted with permission from Cleveland Jewish News
On a cold wintry night in Beachwood, the flames of a Chanukah menorah lit up the space in front of the Jewish Federation of Cleveland. Nearly 100 people came together Nov. 29 to combat antisemitism in a Shine a Light on Antisemitism.
Six prominent figures from the Jewish and Christian community spoke to the crowd about the dangers of antisemitism and how Jewish people and their allies can help to stop it.
Rabbi Avery Joel, head of school at Fuchs Mizrachi School in Beachwood, told the story of Chanukah, and why the Jewish people celebrate it. Joel said the lights that Jewish people light give the same opportunity to not only celebrate religious freedom, but to express gratitude and thank God for the miracles of the eight-day miracle, which allowed Jewish people to continue serving God and not being forced to abandon their religion.
"Today, as we shine a light on antisemitism, we have the same opportunity," he said. "Yes, we do have growing fears about antisemitism worldwide. And we should not ignore the increasing number of antisemitic incidents. But we should also show our gratitude to those who partner with us to protect us and to those who stand up for us. Look around and see the people who have come to support us and make the statement that our safety and religious freedom matter."
Among those people from outside the Jewish community that came to support the cause was Sharon Core, general presbyter of the Presbytery of the Western Reserve in Lyndhurst.
Core said, for those people of the Christian faith, it is their responsibility and calling to name those parts of God's created world which are inconsistent with God's intentions.
"And so when our Jewish siblings experience hatred or violence or killing, we shine a light in the darkness, proclaiming God's intention for shalom and love," she said.
Hallie Bram Kogelschatz, a member of the Cleveland Jewish community, spoke about the facts and figures that emphasize the growing problem of antisemitism.
She cited the 2021 American Jewish Committee State of Antisemitism Report, which found that one in four Jews has been the target of "Jew hatred" in the last year. She also noted the Anti-Defamation League said in its last report that 2020 had proved "by every measure" to be the most antisemitic year in America's recorded history.
In May and June of 2021, The Center to Counter Digital Hate found that 7.3 million antisemetic posts had been shared in the United States and the United KIngdom on the top five social media channels: Facebook/Meta, Instagram, Twitter, YouTube and TikTok. Kogelschatz said, in 84% of these cases, while the posts were flagged by users on the platforms, these social media companies "chose to do nothing."
"The gaslighting of our collective morals and values can be extinguished by exposing these incidents and not being quiet," Kogelschatz said. "Lastly, the fact that you are here means that you are not comfortable with silence and you realize that we are indeed stronger together."
One of these victims of hatred toward Jewish people was Rachel Uram, immediate past president of the American Jewish Committee. While vacationing in Santa Monica, Calif., Uram and her husband were followed by a man who repeatedly yelled "Jew," threw his arm up in a "heil Hitler" salute and threatened them with a broken glass bottle.
"Antisemitic assaults and attacks are not institutionalized as they once were, nor in the shadows," Uram said. "They are out in the open and people feel emboldened. So today, shine a light to illuminate the problem. Let's shine a light to truly hear and see hate. Let's shine a light and engage with this crisis. Let's shine a light so that together we ensure that antisemitism and hate have no place in our community."
Global Cleveland President Joe Cimperman, a former Cleveland city councilman, attended with his two children and his childrens' friends. The first thing he noted to the crowd was he did not feel alone when he saw how many other people were supporting the same thing he was supporting.
"And when I think about my own kids who wanted to come tonight because of the reason we are here to fight, I thought to myself, maybe it's true that the dawn is coming closer than we think," Cimperman said.
As for what Jews and non-Jews in the community can do, Bradley Sherman, 2021-22 chair of Jewish Federation of Cleveland's Campaign for Jewish Needs, said people need to speak up when things don't seem right.
"If you see something, say something," Sherman told the Cleveland Jewish News. "Say 'that's not right.' Question people that have false notions of what it means to be Jewish and our place in society. Question the motives of individuals that are acting out of hatred. And I think that that's what we deserve. That's what our community deserves. That's what all communities deserve."
After these six people spoke, a menorah was lit and children from Gross Schecter Day School in Pepper Pike recited prayers and sang songs for the crowd.