08/10/2016
Shinshinim Bring Israeli Culture to CLE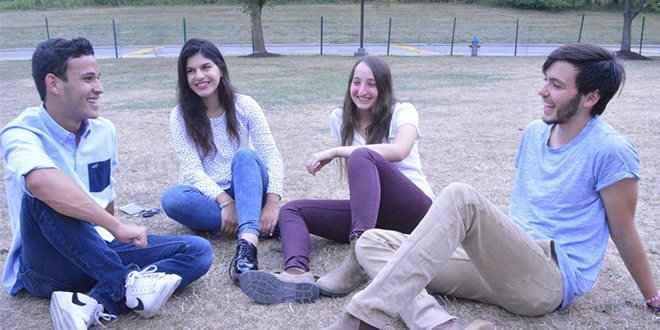 Article reprinted with permission from Cleveland Jewish News.
By Ed Wittenberg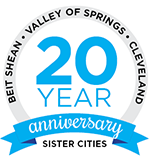 For the past 11 ½ months, four Israeli teenagers have been serving as emissaries in Greater Cleveland to educate the Jewish community about Israeli life and culture, with a focus on connecting with other teens.
But it's been a learning experience as well for the Shinshinim, as the emissaries are called.
"What I learned here is what Jewish community life is about," said Lotem Rozner, 19, of Yehud, Israel. "We are lucky that we got into an amazing and warm community. It's just something that I didn't know at all when I was in Israel. I couldn't imagine how it was."
The Shinshinim, who are brought to Cleveland through a partnership between the Jewish Federation of Cleveland's Overseas Connections Committee and the Jewish Education Center of Cleveland, are high school graduates who have chosen to spend their gap year here before they join the Israel Defense Forces and attend college. Each has lived with three different host families during their stay in Greater Cleveland, and they will return to Israel at the end of August.
"I think the biggest thing I saw when I came here was how much effort people put forth in being Jewish," said Noam Cohen, 19, of Ra'anana, Israel. "In Israel, we take it for granted."
Itamar Cohen, no relation to Noam, said it was valuable for him to learn about the connection between Jewish people in the United States and in Israel.
"I think a lot of people in Israel don't even know that this connection exists, and it's amazing," said the 18-year-old from Ramat Gan, Israel. "How much the Jewish community in Cleveland is donating to Israel and connected to Israel, I think we need to be thankful for it."
Yuval Levy, 18, said she comes from an Orthodox family in Beit Shean, Cleveland's sister city in Israel, so it was interesting for her to see "a different kind of Judaism."
"In Israel, it's like either you're religious or you're not," she said. "But here you have so many options, like Reform or Conservative.
"I also agree with Noam that you really need to put in some effort to be Jewish here and to learn Hebrew. I also feel like the connection between Israel and the United States is very important, especially for this community, because I'm coming from Beit Shean."
Amnon Ophir, director of @Akiva and Israel educator at the JECC, supervises the Shinshinim and directs the program. He said it's one of the most important and effective programs he's been involved in during his 12 years in his position.
"The Shinshinim help us with outreach to students who in the past were not connected to the Jewish community or to Israel," Ophir said. "They work one on one with students in public and private schools, and the students see Israel in a totally different way as a result of this connection."
Neil Waxman, chair of the Federation's overseas connections committee, said the Shinshinim provide enrichment programs for teens at Jewish day schools, youth groups and synagogues in Greater Cleveland.
"They are like ambassadors of Israel to youth across a lot of different settings in the Cleveland community," he said. "It lets people who have never been to Israel get a deeper understanding of what Israel is like.
"Simultaneously, it's an opportunity for these four Shinshinim to gain an understanding of what diaspora Jewish life is like in America. So it's a valuable experience going both ways."
All four Shinshinim said they bonded with their host families and plan to keep in touch with them.
"I want to say for all of us that I know Cleveland is part of our life now, and it's always going to be our second home," Levy said. "And I know that I'll come here again and again and again."
---
Related Items