11/05/2015
Siegal Concludes Term as JFNA Chair
Article reprinted with permission from Cleveland Jewish News.
Siegal wrapping up term as JFNA board chair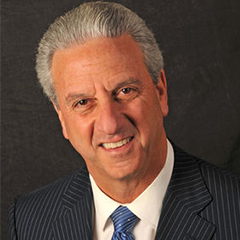 By Ed Wittenberg
Michael Siegal's three-year term as board chair of the Jewish Federations of North America will come to an end after the JFNA General Assembly Nov. 8-10 in Washington, D.C.
Siegal, former board chair of the Jewish Federation of Cleveland, will be one of more than 200 speakers at the event. In a telephone interview, he discussed how he feels JFNA was able to be elevated under his leadership.
"Why the national organization exists is to deal with issues that come out of Washington and Jerusalem, representing North America's views on subjects that are critical to the vibrancy of ongoing Jewish communities," he said. "I think we recognize that more fully.
"Also I think the recognition that JFNA is a safe place to represent positions to the overall Jewish community without taking sides, and we have elevated staff to be more responsive to the needs of local communities, large and small."
Siegal, of Gates Mills, said it should be interesting to hear what Israeli Prime Minister Benjami Netanyahu has to say when he speaks to the General Assembly. He noted Isaac Herzog, leader of the opposition in the Israeli Knesset and chairman of the Labor Party, is also scheduled to speak, "so we'll get a lot of perspective of what is going on in Israel."
"There will be some representation from the (United States) administration, but I'm not sure yet who it's going to be, as that has not been confirmed," Siegal said.
Kevin S. Adelstein, publisher and CEO of the Cleveland Jewish News, is also scheduled to speak. Other speakers with connections to Cleveland include William C. Daroff, senior vice president for public policy and director of the Washington office for JFNA, who grew up in Shaker Heights; Eric Fingerhut, president and CEO of Hillel International, who grew up in Cleveland Heights and University Heights; and Ilanit Gerblich Kalir, managing director of the department of international operations for the Jewish Federation of Cleveland.
Matt Nosanchuk, associate director of the White House office of Public Engagement and Intergovernmental Affairs, is also slated to speak. He is the cousin of Rabbi Robert A. Nosanchuk, senior rabbi of Ansshe Chesed Fairmount Temple in Beachwood.
Other nationally known speakers include Leslie Wexner, chairman and CEO of L Brands; Barney Frank, former U.S. congressman and chairman of the House Financial Services Committee; Paul Goldenberg, national director of the Secure Community Network; David N. Saperstein, U.S. Ambassador-at-Large for International Religious Freedom; David Horovitz, founding editor of The Times of Israel; and actress Debra Messing.
---
Related Items