04/13/2017
Siegal to be Honored at Annual Meeting
Article reprinted with permission from the Cleveland Jewish News.
By Ed Carroll
Federation to present Siegal with its highest award
The Jewish Federation of Cleveland will hold its 113th annual meeting at 7:30 p.m. April 20 when it will present its highest honor, the 2017 Charles Eisenman Award for Exceptional Community Service, to Michael Siegal, chair and CEO of Olympic Steel.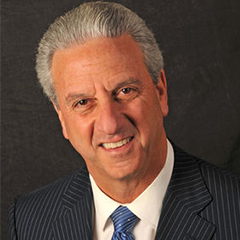 Siegal, a Gates Mills resident, said it was humbling to be in the same category as preceding winners.
"If you're in Cleveland and you're Jewish, the Federation is very important in terms of the quality of how you choose to raise your family and the opportunities there are to live a vibrant life in a Jewish context," Siegal said. "The Federation is a big part of how that translates to your family and your personal ability to connect to your people."
Siegal said he doesn't have a prepared acceptance speech, but he likely will say some words of gratitude at the meeting.
"I'm very thankful and would like to thank whoever nominated me and those on the selection committee," Siegal said.
Guest speaker at the meeting will be Ronald J. Clark, former deputy under secretary of the Department of Homeland Security and retired U.S. Marine Corps.
Todd Stein, co-chair of the meeting, said Clark is a unique speaker because of his expertise.
"We're extremely fortunate to get (Clark)," Stein said. "I don't think anyone will have heard a speaker like this before. One of the things, quite frankly, is we wanted to have a speaker in these political times that was neutral. We didn't want to placate to anybody and we didn't want to offend anybody. Everyone is worried about security."
Stein said he and his wife, Carmie, are honored to be co-chairs. They recently moved to Moreland Hills from Akron to be closer to their daughters.
"I grew up in Federation life," Stein said. "It's just moving on to generations three and four in Cleveland now."
113th annual meeting of the Jewish Federation of Cleveland
WHEN: 7:30 p.m. April 20
WHERE: B'nai Jeshurun Congregation, 27501 Fairmount Blvd., Pepper Pike
WHAT: Ronald J. Clark, former deputy under secretary of the Department of Homeland Security and retired U.S. Marine Corps officer, presentation of Eisenman Aard, dessert reception with Kosher dietary laws observed
TICKETS: Free and open to the public
INFO: Register by emailing infomgr@jcfcleve.org, call 216-593-2900, ext. 740 or visit jewishcleveland.org
---
Related Items