05/08/2019
'Sister City Celebration' Takes Place at Cleveland Public Library Louis Stokes Wing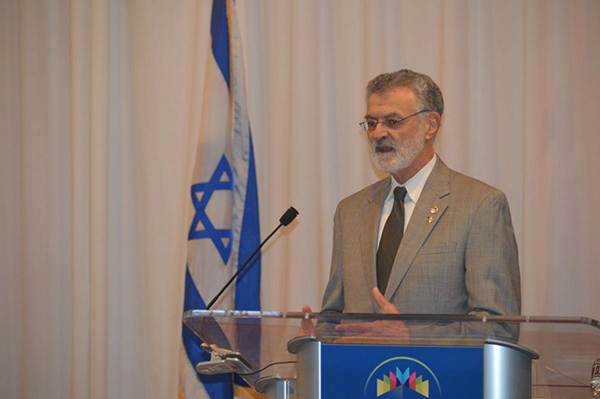 Article reprinted with permission from Cleveland Jewish News.
ED CARROLL | STAFF REPORTER
The city of Cleveland and the Jewish Federation of Cleveland celebrated the announcement that Cleveland and Beit Shean and Valley of Springs in Israel will become official Cleveland sister cities during a short ceremony at the Cleveland Public Library Louis Stokes Wing in Cleveland on May 2.
The "sister city celebration" featured remarks from Federation President Erika Rudin-Luria, Israel Nitzan, deputy Consul General of Israel in New York, Cleveland Mayor Frank G. Jackson, Lynne Cohen, chair of the overseas connections committee of the Federation and Cuyahoga County Executive Armond Budish. A video message from the mayors of Valley of Springs and Beit Shean, Yoram Karin and Jackie Levy, respectively, was played, as the mayors could not attend the celebration themselves due to the Yom Hashoah holiday. Since the mayors were unable to attend in person and the official sister city documents had not yet been signed, the cities are not yet official sister cities of Cleveland, though the partnership is expected to be official soon. Cleveland has been partnering with the cities for programs since 1996.
"It's appropriate that this event takes place today on Yom Hashoah," Budish said. "It's critically important that Jews around the world will always have a homeland – a safe and secure homeland – in Israel. One way to make sure that happens is to strengthen the ties between we here in the United States and in Cleveland here in particular, and also in Israel and in Biet Shean, Israel."
The celebration also featured a performance of "Hatikva," the Israeli national anthem, by teen emissaries from Israel Shin Shinim and a piano performance by Yaron Kohlberg, an Israeli pianist who is the president and CEO of the Cleveland International Piano Competition.
Also in attendance were Judge Daniel A. Polster, U.S. judge for the Northern District of Ohio; Solon Mayor Eddy Kraus; Jewish Federation of Cleveland's Young Leadership Division board chair Dayna Orlean and her husband, Cameron, who is vice chair of the division; J. David Heller, president and CEO of NRP Enterprises; and Kevin Kelly, president of Cleveland City Council.
"Cleveland's strong international presence continues to be enhanced through educational, economic and cultural exchange with our sister cities," Jackson said. "We continue to build on our city's tradition of cultural interchange and welcome Beit Shean as our newest sister city."
The celebration was part of the inaugural Cleveland Sister Cities Conference, which was May 1 to May 3 at the library.
---
Related Items