11/10/2023
Solidarity Mission to Israel Evokes Stories of Those Impacted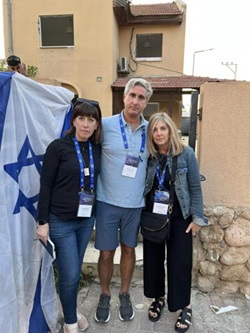 COURTNEY BYRNES | CJN
Article reprinted with permission from Cleveland Jewish News
As Erika Rudin-Luria and Beth Wain Brandon returned from a two-day solidarity mission to Israel on Nov. 1 and Nov. 2, they brought back the stories of Israelis impacted by the Oct. 7 attack on Israelis by Hamas.
Rudin-Luria and Brandon, along with Michael Haas, were the only Clevelanders on the 20-person mission that took them to meet with families of hostages and those displaced by the attacks. They all serve the Jewish Federation of Cleveland – Rudin-Luria as president, Brandon as general campaign chair and Haas as the Israel Emergency Campaign co-chair.
"It was very important to be there, it meant a huge amount," Rudin-Luria told the Cleveland Jewish News. "It also demonstrated though, we have a responsibility. Hearing those stories and seeing things and talking with people, we have a responsibility to bring those stories here. And we have a responsibility to advocate for them here."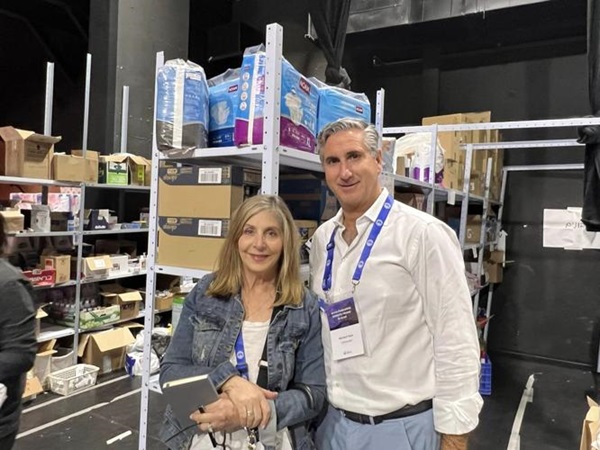 She shared the stories of a family now living in a hotel after Kibbutz Be'eri was attacked. They stayed in contact with other family members in the kibbutz as much as they could while their homes were attacked, and later found out their parents were killed.
They also met with two hostage families, and the following day received a phone call from one of the families that they were sitting Shiva after learning their loved one was actually killed.
Even after the Federation's vigil to pray for the hostages on Oct. 30, Rudin-Luria said she heard from people in the community who have connections to relatives of hostages or to hostages.
"It's the degrees of separation between Jewish people," she said. "In Israel, it's nonexistent, and between Cleveland to Israel, the degrees are very few, if any at all."
While the families the group met with emphasized sharing the stories of the hostages, they also showed appreciation for the group to come during a difficult time and try to understand what's going on.
"They were also concerned about what they're hearing about the rise of antisemitism in our country," Rudin-Luria said.
As they were in Israel for only 40 hours, Brandon described it as a physically and mentally exhausting trip as they heard from and absorbed the pain and suffering of the Israelis they met with.
"In addition to seeing the most horrible stories and seeing the most horrible atrocities, we also saw so much resiliency and people coming together in ways that they've never come together before," she said.
This included a visit to a civilian command center full of volunteers who came together to provide services and care to those who needed it, particularly the 200,000 that have now been displaced.
The Federation stepped up with the launch of an Israel Emergency Campaign, which Brandon said is already helping to provide trauma relief, psychological counseling and even temporary schools for kids. As of Nov. 3, the community had raised $32 million for the campaign.
She also stressed the importance of supporting the Federation's annual Campaign for Jewish Needs as without it, they would not have had the relationship with partners in Israel to respond so quickly after Oct. 7.
"We just have to remember that Israelis are strong and resilient, but this is a situation that has affected every single Israeli in the entire country," Brandon said. "They've lived with bombs and missiles in the past, but they've never experienced anything like this. And they're frightened. So, we need to stand with Israel, we need to let Israel know that we stand with them."
To donate to the federation's Israel Emergency Fund, visit bit.ly/3SxYmaE.