02/14/2022
Soup Recipes from Beit Shean and Valley of Springs, Israel
Friends from our sister city of Beit Shean and Valley of Springs, Israel shared these tasty soup recipes with our Cleveland community. Try them now!
We'd love to see how your recipes turn out! If you make these dishes, make sure to post them to social media using the hashtag #jewishcleveland. Enter your email below to receive all 10 soup recipes.
Harira* Soup
by Etti Valinaamat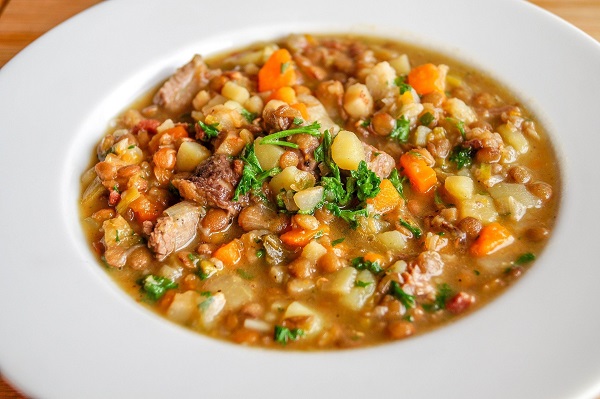 Ingredients:
1 cup chickpeas (soaked in water for at least 10 hours) 1 cup brown/green lentils (soaked in water for an hour) 3 tomatoes, peeled and diced 3 celery stalks, finely sliced 1 large onion, diced 1 bunch of parsley/coriander, diced 1 cup of very fine egg noodles 1 Tbsp of flour mixed in well in 1 cup of cold water Juice of 1 lemon Seasoning: 1 Tbsp salt, 1/2 tsp saffron, 1 tsp cumin, 1 tsp black pepper, 2-3 tsp canola oil, appox. 2-3 l. tap water
Directions:
Lightly fry the onion in oil in a large pan.
Add the tomatoes, chickpeas, and lentils. Continue to fry lightly.
Add the celery and parsley/coriander.
Add the water.
Add the seasoning, and cook on medium heat for approximately 20 minutes.
Taste and add seasoning if needed.
Add the lemon juice.
Add the flour with the water and stir well.
Mix in the noodles.
Cook for around another 30 minutes on low heat.
*In Moroccan, harira means warm, which makes this soup perfect for winter.
Minestrone Soup
by Shira Catz
Ingredients:
1 Tbsp olive oil (for frying) 1 medium sized onion, diced 2 tomatoes, diced 3-4 garlic cloves, diced 2 carrots cub into cubes/rings 1 large potato, cubed 1 large zucchini, cubed 2 celery stalks, cut 1 cup navy beans, cooked Dry pasta/noodles 2 heated tbsp tomato paste 1/2 cup celery leaves, diced 8-10 cups boiling water Seasoning: 1 tbsp silan (date honey), 1.5 tbsp salt, 3 tsp saffron, 1 heated tsp soup powder, 1 tsp sweet paprika, 1/4 tsp black pepper
Directions:
Heat a pan with a tablespoon of olive oil and fry the onion until it turns a light golden shade (medium heat). Add the tomatoes and garlic, add a little salt and cook for around 3 minutes.
Add the carrot, potato, sweet potato, celery stalks, navy beans, tomato paste, and seasoning. Add the boiling water and stir well.
Cover the pan and cook on medium-low heat for 30-40 minutes, until the greens are tender.
Add the diced celery leaves and pasta and cook for 5-10 minutes until the pasta is ready. Taste and adjust seasoning according to taste.