12/05/2016
Special Update: Israel's Fire Emergency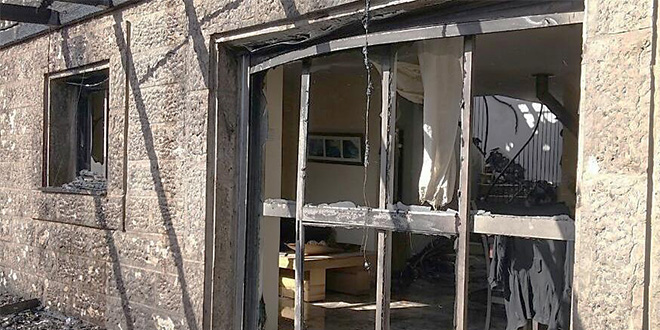 Our international partner, the Jewish Agency for Israel, provides an update on our response to Israel's Fire Emergency.
Special Update: Jewish Agency Response to Israel's Fire Emergency
What started as a single fire on November 22 became a firestorm engulfing many parts of the country. Despite a collective sigh of relief that the flames have been extinguished and that rain is finally beginning to fall, we are painfully aware of the tragedy that has struck hundreds of Israeli families and that a sense of uncertainty remains for them.
Through this difficult time, we, with our valued philanthropic partners, have stood with our brothers and sisters. Together, we have much to be proud of:
More than 70,000 people fled their homes as the fires burned and approximately 130,000 dunams (32,000 acres) of land were eradicated. The selfless determination of firefighters and security forces ensured that not a single life was lost.
Accommodations and relief have been secured for each family whose homes were charred and destroyed.
The fires have brought heartbreak and despair to people from all parts of Israeli society, but they have also brought together every segment of Israeli society. Israelis across the country have opened their hearts and homes to help their fellow brethren.
And it is not just Israelis who are standing united at this time. Jewish Agency Chairman, Natan Sharansky, explains, "World Jewry feels closely connected to what is taking place in Israel and comes to our help without hesitation. We are proud of our partners and appreciate their solidarity when it matters the most."
The Jewish Agency Steps In
"I was overjoyed to receive a phone call from a Jewish Agency representative… While the government will provide some compensation for the damages, this grant was an additional lifeline that reminded me, especially during these difficult days, that all of Israel is responsible for one another." - Shai Gabay, a resident of Haifa
As the fires raged and intensified across the country, The Jewish Agency for Israel, together with our partners, the Jewish Federations of North America, Keren Hayesod and worldwide donors, mobilized to offer immediate emergency assistance to the victims of this firestorm. In this instance, the Jewish United Fund of Metropolitan Chicago and Combined Jewish Philanthropies of Greater Boston (CJP) came to the fore to support the Jewish Agency's immediate response to the emergency.
From the very outset of the crisis, we maintained our mission-focused work to support Israel and Israelis in a time of need. Our on-the-ground emergency efforts have included:
The establishment of an emergency information desk in Haifa situated alongside those from the Haifa Municipality, Ministry of Finance, and others. The desk is manned by Jewish Agency professionals and volunteers who continue to assist those in need and provide them with timely information.
The ongoing distribution of emergency grants of $1,000 to families whose homes were entirely destroyed or have been determined to be structurally unfit for inhabitance. Fire investigators and surveyors continue to work around the clock to assess each damaged home. The Jewish Agency is committed to delivering grants to families within 24 hours of receiving their information from the local municipalities. These grants enable victims to purchase supplies such as clothing, food, medication, and medical equipment in the immediate aftermath.
The Jewish Agency's Division for Emergencies and Special Tasks is responsible for distributing the checks individually to each family. A professional from The Jewish Agency has been meeting with each family to personally deliver their check. Delivered with the grants is a letter with a message of support from the Jewish Agency and recognition of its major partners and worldwide donors who made it possible.
The Jewish Agency on the Ground
On Wednesday, November 30, The Chairman of The Jewish Agency, Natan Sharansky, and President of Combined Jewish Philanthropies of Greater Boston, Barry Shrage, personally distributed checks to two families in Haifa. These were emotional and meaningful moments that epitomized the core Jewish value of kol yisrael areivim ze la'ze (all of Israel is responsible for one another).
Shrage explained, "The secret of this miracle is hundreds of dedicated intelligent, caring, and committed staff and volunteers, led by some of the very best professionals I've ever met…Haifa is a strong community characterized by mutual respect, cooperation, inclusion, and hope. Boston is blessed to be partnering with this community and grateful for the cooperation of The Jewish Agency and the JDC."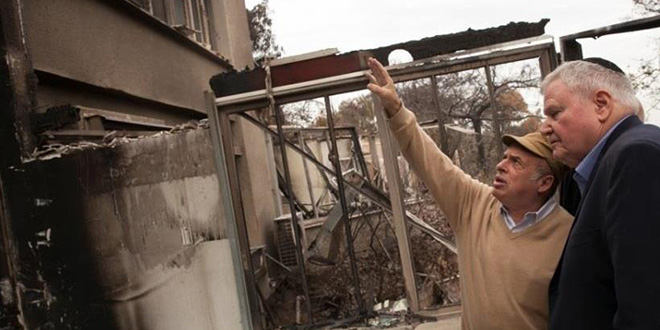 Additional Jewish Agency Action
A new Amigour elderly housing facility opened its doors earlier than scheduled to provide nursing care for 22 elderly Holocaust survivors who were evacuated from their nursing home in Haifa. They arrived cold, confused, and concerned. Our dedicated staff assessed their needs and eased their anxieties. They continue to provide them with round the clock care.
The Sapir Absorption Center in Kiryat Yam served as a temporary haven for 13 new Russian immigrants who recently arrived in Haifa. They have since returned home and local Jewish Agency staff is guiding them as they navigate insurance and compensation procedures.
Students in the Ulpan Etzion program in Haifa who live throughout the city are being supported by Jewish Agency social workers and staff as they return to their apartments and regular program activities.
With Gratitude
The Jewish Agency for Israel on behalf of world Jewry continues its work of reaching those in need, caring for victims, and offering critical and immediate assistance. The needs are great, the damage is significant, but the inspiration and gratitude are immense.
One hundred percent of your donation will go to the Israel Fire Emergency Fund. To make a donation, visit http://jfeds.org/IsraelFireFund.