09/11/2015
Standing Up for What You Believe In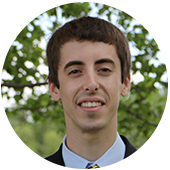 Hello!
I am Daniel Pearlman and I grew up here, in Solon. From an early age, my identity was shaped by the Jewish Cleveland community. I went to preschool at Jewish Day Nursery, affiliated with Bellefaire, a Federation partner. Of course, I didn't know that at the time. All I knew was that I loved the environment around me. Even today, I am still close with some of my preschool friends.
As I got older, my involvement in the Jewish Cleveland community grew. I went to religious school at the Temple-Tifereth Israel, and became a Madrich in eighth grade. Helping elementary students learn Hebrew and Jewish studies was my way of giving back to the community that had done so much for me.
My temple youth group was also instrumental in solidifying my Jewish identity. Then, in the beginning of eleventh grade, I was exposed to Israel and to Israel advocacy for the first time.
During my last two years of high school, I also participated in this Federation-supported program. It was a comprehensive journalism advocacy program geared toward high school students. Working closely with the Jewish Education Center of Cleveland – a Federation partner – and the Cleveland Jewish News, the program prepared high school students for what they might experience on campus, before they ever have to witness an anti-Israel protest.
I met distinguished political, media, and government personnel, and I was able to travel to the capitol building in Washington, D.C. to meet with members of Congress.
The experiences I had taught me that Cleveland is my home, and Israel is my homeland.
When I started my freshman year at the University of Michigan, I wanted to be involved in Israel advocacy. I quickly became active at Michigan Hillel, and I joined a variety of pro-Israel groups on campus.
Thanks to the experiences I had so far in my life, I was able to make a name for myself, even as a freshman. I joined the political committee of the American movement for Israel, and I also joined WolvPAC, a political advocacy group, and I-lead, an education and dialogue group.
I also studied abroad in Tel-Aviv and Jerusalem during Onward Israel, an 8-week internship that's part of the Federation's I-Connect initiative. I was again reminded of my love for my homeland and my commitment to the Jewish people worldwide.
Until that point, my support for Israel was unchallenged. But everything changed at the end of my sophomore year, when a Boycott, Divestment, and Sanctions (BDS) resolution was introduced to our student government.
As pro-Israel student leaders, we didn't know what to expect. At first, we decided not to inform our peers about the resolution as we didn't want to give it more attention. But that soon proved to be a mistake.
At the first reading of the resolution, the week before it was voted on, about 20 pro-Israel student leaders came to the student government meeting to observe what would happen. We were met by 300 anti-Israel students, faculty members, and community members chanting, screaming, and even threatening us and our student government representatives.
Some of my friends received death threats, and couldn't go to class for fear of being attacked. Many students felt traumatized by the insidious nature of the BDS movement. Some students called BDS a "human rights" and "social justice" issue, while simultaneously harassing pro-Israel students online and in person.
This was my first encounter with an ideology that does not recognize my people's right to live in our homeland. This was my first experience with blatant anti-Semitism and obsessive anti-Israel propaganda.
I was scared, but I was also confident in my ability to defend Israel, thanks to my experiences leading up to this moment.
So, I got up and spoke in front of hundreds of students who were completely uninterested in what I had to say. 300 sets of eyes were glaring at me, trying to interrupt my speech with banners and accusations of "genocide" and "apartheid." But when my allotted time was up, the room was silent.
While I received plenty of negative feedback on social media and on anti-Israel websites, a few student government representatives personally contacted me to compliment my speech. It was challenging, but I would do it again in a heartbeat.
Over the next week, campus climate significantly deteriorated. I tried to walk with a group of friends whenever I got the chance, and I would not go out at night.
Everyone was talking about BDS on campus. Anti-Israel students staged a sit-in all week, taking over the student government chambers and refusing to leave. Anti-Israel op-eds were published, and some of my closest friends were continuously harassed.
Over 1,000 students came to the student government meeting the next week, prompting university officials to livestream the meeting and open two additional rooms for students to watch. The meeting lasted over six hours, but in the end, the BDS resolution failed by a large margin.
Yet I didn't feel good about the result. I was still upset, still worried, still scared. I knew my work was not over.
I became a Fellow at the David Project, a national pro-Israel organization that focuses specifically on relationship building, and I have built genuine relationships with many student leaders, some of whom are now my best friends.
And this summer, I was privileged to work with the Federation's Community Relations Committee as a Cleveland Hillel intern. I saw firsthand how we combat anti-Israel sentiment through relationship building and bridging cultural divides. I found my true passion.
For the past 21 years, the Jewish Cleveland community has impacted me in more ways than I often realize. I am proud to be a Jewish Clevelander.
Thank you for giving me the strength and tools to stand up for what I believe in. My experiences have shaped me – this community has shaped me. And I will do what I can to help shape our community in the future.
I am Jewish Cleveland.
---
Related Items