08/24/2021
Students From Greater Cleveland Recount Onward Israel Program
McKENNA CORSON | STAFF REPORTER
Article reprinted with permission from Cleveland Jewish News
For a majority of 2020, it was like COVID-19 had drawn yellow caution tape around the world's countries and cities. Planes were grounded, as were people's hopes to leave their homes and immerse themselves in new places and cultures.
Then the brilliant dawning of 2021 brought with it optimistic opportunity, fortified by COVID-19 vaccines and safety protocols.
Onward Israel, a program where college students and recent college graduates live and intern in Israel for a summer – or winter, for college students in the southern hemisphere – took a chance with the decrease in COVID-19 cases to resume its in-person programming. The program had switched to a virtual platform due to the virus the year prior.
From June 9 to Aug. 3, 36 Jewish college students or recent graduates from or living in Greater Cleveland ventured to Tel Aviv through Onward Israel's partnership with the Jewish Federation of Cleveland in Beachwood.
This year's Onward Israel rendition gave Beachwood resident Zach Chylla the chance to finally visit Israel for the first time. Chylla, an incoming junior at The Ohio State University in Columbus, said the program's selling point was that it was a two-month trip to Israel where he had the freedom to leave behind the gloom of COVID-19 and explore someplace new at his own leisure.
"With everything that happened this past year with COVID, this summer made it very enjoyable," said Chylla, a strategic communications major and business minor. "... Just to be here and be a part of the culture, I'm very lucky that I had this opportunity through Onward to be in Israel and to explore with my friends."
Program participants worked with internship coordinators to find internships that matched their interests and intended career field. Participants were able to be from any major or field of study.
Chylla, using his interest in marketing, served as the global marketing intern for Pixellot, an Israeli AI-automated sports video and analytics tech company.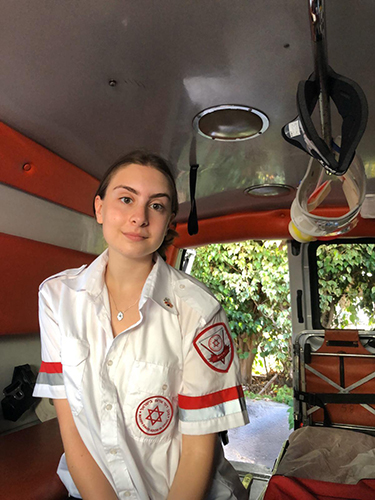 Onward participant Maria Burdjalov of Pepper Pike selected an internship with Magen David Adom, Israel's national emergency medical service. After 10 days of training and exams, Burdjalov, a medical anthropology major and incoming junior at OSU, registered as a volunteer first responder. She worked three to four, eight-hour shifts riding in ambulances, responding to calls and providing medical services to people of all walks of life across Ramat Gan, Bnei Brak and Tel Aviv.
"It was just an incredible, incredible opportunity, especially because hands-on experience with a patient is unheard of for a pre-med student," Burdjalov said. "It was so beneficial in understanding my path towards medicine, because I got to be exposed to the emergency medicine field and learn how it works and what it means to bring patients to a hospital and talk to them."
Even though this year's Onward experience felt almost normal with Israel slowly resuming daily life post
COVID-19-shut downs, the program was unlike any in the past, said Scott Simon, the Federation's Overseas Connections Committee chair. COVID-19 was still a major issue, and the Delta variant continued to loom. About a month prior to the program's start, Israel entered a weeks-long conflict with Hamas where the two exchanged missile and rocket fire.
"For sure, this year was different," Simon said. "The COVID-19 pandemic and the resurgence of the Delta variant definitely threw a curveball to everyone's plans this year, but I would say that our participants and our staff showed an incredible amount of resilience and flexibility, which are outcomes and characteristics that we think the entire Onward experience creates and fosters."
Simon said the Federation and Onward held the participants' safety of utmost importance. Participants had to adhere to Israel's international travel guidelines and had the option to perform their internships virtually from their Tel Aviv apartments.
Some participants did leave the program early for reasons related to the Delta variant, but the majority of participants stayed and "had an absolutely life changing experience," Simon said.
Chylla and Burdjalov agreed that their feelings of safety never wavered throughout their summer.
"I trusted Onward; they wouldn't send us to Israel if it wasn't safe for us to be here," said Chylla, who attends Anshe Chesed Fairmount Temple in Beachwood. "There was never a point in the summer where I felt unsafe or anything like that."
Simon met with Cleveland's Onward participants for dinner when the young Clevelanders visited Beit Shean, Cleveland's sister city, for a few days. Participants had the option to attend Onward's many group trips around Israel or travel amongst themselves.
Even though the 2021 Onward Israel program has now found its forever home in the participants' memories, the Clevelanders took home with them internal souvenirs gained from their two months in Israel.
For Shaker Heights resident Rachel Podl, COVID-19 took away precious, limited time that she had hoped to spend learning and being with friends at Claremont McKenna College in Claremont, Calif. The incoming senior and psychology major jumped on the chance to live and work in Israel so she could resume at least some aspects of her young adult life.
She interned at the Association for Children at Risk, an organization that provides different areas of support for children with autism in Israel. Through her internship working with nonverbal children and living in an area where she didn't speak the language, Podl learned the vital ability to cross language barriers and communicate with others without using words.
"When I found out about Onward, it just seemed like the perfect thing to do after being stuck inside for a year and a half," said Podl, who attends Fairmount Temple. "Being able to connect with Israel as the first thing I did in a post-pandemic-shutdown world was really special."
To learn more about the Onward Israel program, contact Rivki Ebner at rebner@jcfcleve.org or 216-593-2921.