04/18/2023
Students Remember Holocaust with Creative Writing
To honor our local survivors and remember those who perished during the Holocaust, local schools entered the Yom Hashoah Creative Arts Contest. Students created original poems and visual arts pieces to incorporate this year's theme, "80th Anniversary of the Warsaw Ghetto Uprising."
View the 2023 Creative Arts Contest winning creative writing entries below.
Writing – High School:
1st Place: Elise (James A. Garfield High School)
"5 Days"
5 days
I have 5 days until my life will end
Truly end
Not end like when I watched my brother get beat because he stepped out of line
Or like when I heard my mothers blood curdling screams as they took my father away
In 5 days we will rise
We will rebel against the people who took our lives away 4 days
Today I will enter the ghetto for the last time
My pack is full of supplies for the resistance
Weapons have been hidden inside the ghetto
Each step I take has been perfectly planned
There is no room for error
3 days
As I make my way through the ghetto I see people half dead
Their families keeping them alive only for their ration
My heart aches at the sight of them
2 days
I have made it to a safe house
My packed is added to the stock
I see familiar faces from missions before I savor every minute of this time
1 day
People are getting anxious
Plans have been gone over and over again
Weapons have been handed out
We eat
And we go to sleep
Today I die
Me and one other make it to our post and we wait
Someone signals and I hear gunshots
It has begun
Explosions and gunshots ring out
In the confusion my partner is killed I being to run ... away
But something stops me
I think of the reason I'm here
I'm here for my brother
For my father
For my mother
For all the people whose lives were stolen from them
Then, it all goes quiet and I know that this is the end
2nd Place: Dov (Fuchs Mizrachi School School)
"A Whisper"
"… my cry has gone unanswered a whisper in the crowd
every whisper burns torrid
the blaze turns to effl uvium
the whisper was heard
the whisper was hurt.
Will my pleas be heard?
Children playing in the street with a vulnerable glee,
no need for bravery
no dare to live,
they feel comfort in life.
I long for the day!"
I live it,
every day is a gift,
my predecessors were thankful for their hands which were empty, Mine are full.
Have I been thankful?
They were given a whisper
and turned it into a shout, we've done the inverse.
Silence is woeful,
Say something.
Writing – Middle School:
"A Conversation with the Past"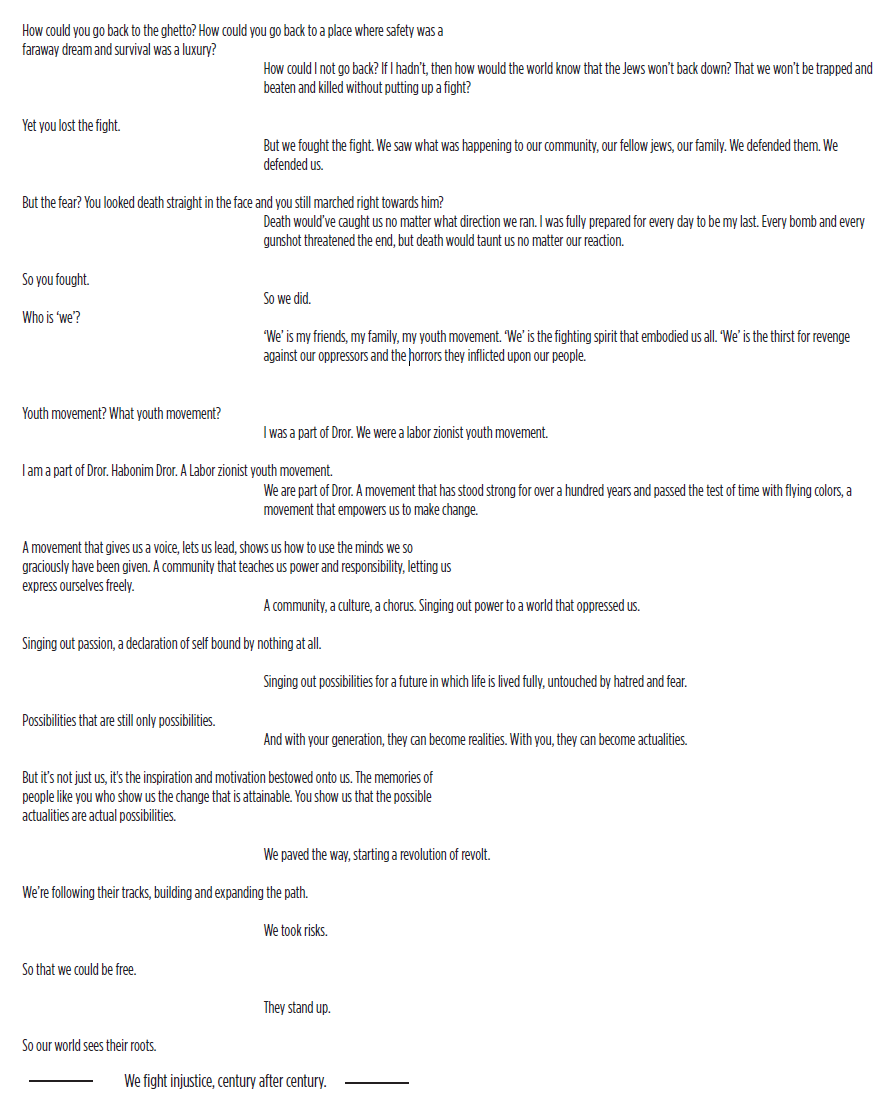 2nd Place: Esther (Orange Middle School)
"Holocaust"
Iron pipes that pierce the skyline. Concrete, white
against the blue. Office blocks, now cold and empty,
No sun-streaked glass to mar the view.
Empty eyes the gaze unseeing
On a vista stark and bare.
No dogs to foul the empty pavements. No birdsong
on the morning air.
In an alley filled with rubble
, A rust encrusted laundry van,
Filled with shrouds, no longer needed
By the creatures they called man.
But hope is born, for time must pass. In reformed
tarmac, a blade of grass.