09/05/2019
Super Sunday is for Everyone!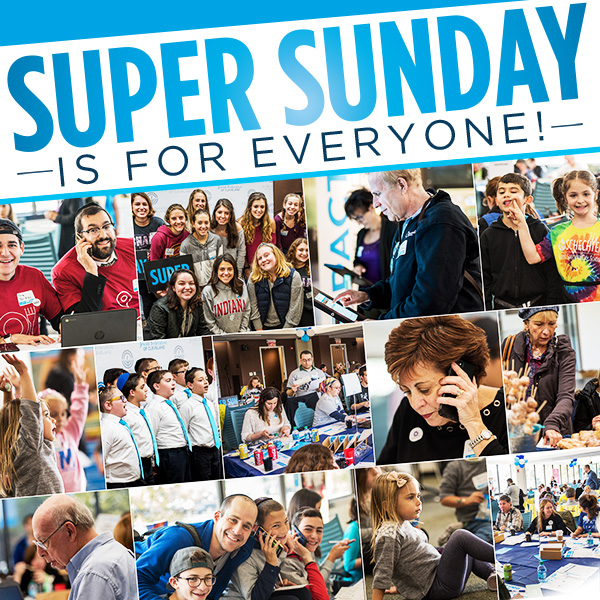 Our Super Sunday Co-Chairs share why Super Sunday is for our entire community – from young families, to volunteers, and everyone in between! Join the Magence, Roth, Stein, and Dessler families at Super Sunday on September 22. Register Now >>
Super Sunday is for Volunteering!
by Tovah and Noam Magence
Super Sunday allows everyone an opportunity to make a difference. It's a day that people from all parts of Cleveland's Jewish community come together to ask for those who can't ask for themselves.
When making phone calls was the only option, I used to be intimidated by Super Sunday. But this year there's many others ways that you can get involved! To me, the best part of Super Sunday is that it's something that we can do with our children. Even though they are young, they can feel the energy of the day and the sense of community and purpose.
This year, I'm excited to share that there will be new ways for children of all ages to help out with "PJ Library Gathers for Good at Super Sunday," where children and parents will interact with the values of giving. Children can also volunteer to be in the middle of the action as pledge card runners! Volunteers of all ages can also write thank you notes to our community of generous donors who have already made their commitment to the 2020 Campaign.
Super Sunday is a great day to learn more about how your Campaign contribution makes a difference. Moments of Impact, scheduled throughout the day, allow you to hear how Campaign dollars have been utilized by actual recipients.
I hope to see you for a feel-good day of volunteering Super Sunday on Sunday, September 22!