08/28/2017
Support the 2017 Hurricane Relief Funds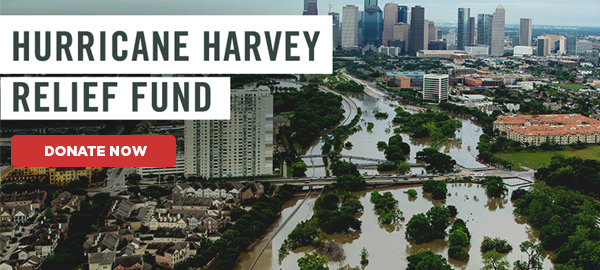 Jewish Federations across the country are raising funds to support communities and individuals in Houston, San Antonio, Galveston, Corpus Christi and other areas that have been hammered by Hurricane Harvey. With record breaking volumes of rain having fallen through the weekend and expected to continue through tomorrow, extensive damage is continuing to mount.
Lee Wunsch, CEO of the Houston Federation, reports that the amount of rain and resulting flooding has surpassed that of the massive storm two years ago. Bayous and tributaries are flooding beyond their banks and roads are impassable. People whose homes are flooding are being advised to go up to their roofs so they can be evacuated; emergency workers were evacuating stranded residents throughout the night.
We know that several Jewish communal institutions that flooded two years ago have flooded again, but communities in the affected areas won't be able to start assessing the scope of damage to institutions and members of their communities until the rain stops and roads become passable.
The Jewish Federation of Cleveland has contributed $25,000 to aid victims of Hurricane Harvey.
For more information, please contact 216-593-2782.
One hundred percent of your donation will go to the Hurricane Harvey Relief Fund.