11/30/2016
Taking a Stand Against BDS with H.B. 476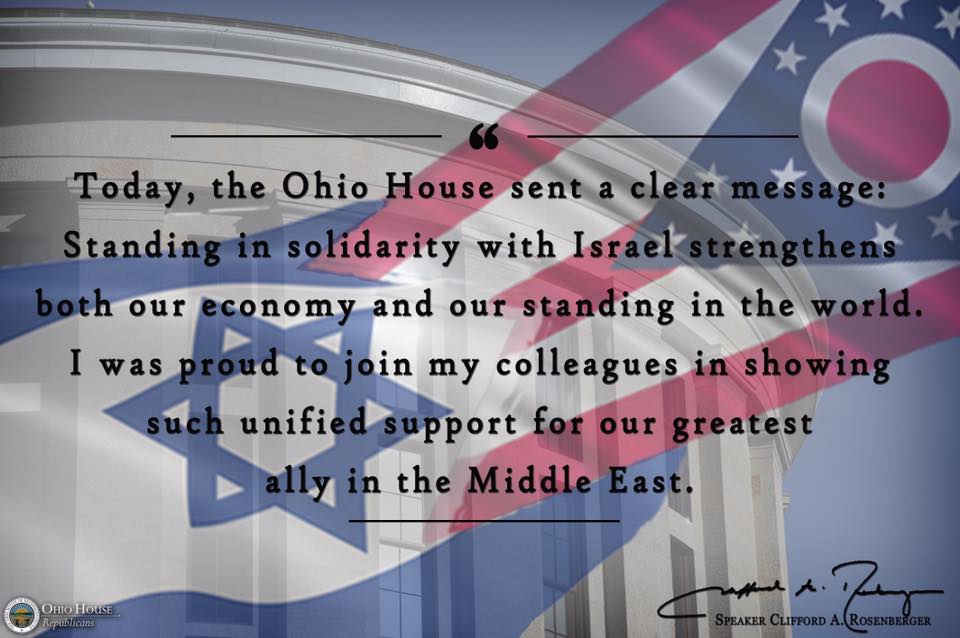 On November 29, the Ohio General Assembly took a major step forward in fighting the anti-Israel Boycott, Divestment and Sanctions (BDS) movement. By voting to approve H.B. 476, the Ohio House of Representatives moved the bill along to the Ohio Senate (which we hope approves it in the next week or two) for final passage, and ultimately signature by Governor Kasich, a strong, vocal opponment of BDS. Once the bill is finally passed and signed into law, Ohio will join more than a dozen other states in formally opposing BDS. Another dozen are poised to consider similar bills soon.
Combatting the pernicious BDS movement – and the anti-Jewish and anti-Israeli discrimination it countenances – has long been an important priority of the Federation, its Community Relations Committee, and its Government Relations Committee. The effort to enact this important law was led by all the Ohio Federations, in partnership with Ohio Jewish Communities, our lobbying partner in Columbus. During hearings on the bill in Columbus earlier this year, Cleveland lay leaders Jason Wuliger and Barry Guttman testified in support of the bill. Those efforts showcase the need for committed lay and professional activists to build longstanding relationships with our elected officials and policymakers in Columbus, Washington, and locally as well.
So what exactly does H.B. 476 do? It prohibits the State of Ohio from entering into state contracts with any entity that complies with a boycott of Israel. This model of fighting BDS has been adopted by other states, including New Jersey and California. As one of the sponsors noted, "If you won't do business with Israel, you can't do business with the State of Ohio."
H.B. 476 is only one way that the Federation works to counter BDS efforts to delegitimize Israel. Other efforts have involved training lay leaders in pro-Israel advocacy, leading a delegation of Cleveland lay leaders plus partners from the African-American and Hispanic communities to Washington, D.C., developing strong relationships with state legislative leaders through Israel missions, and supporting the work of Cleveland area Hillels on campuses.