07/28/2016
Taking Back the Campus with Jacob Baime
Anti-Semitism taking new forms on college campuses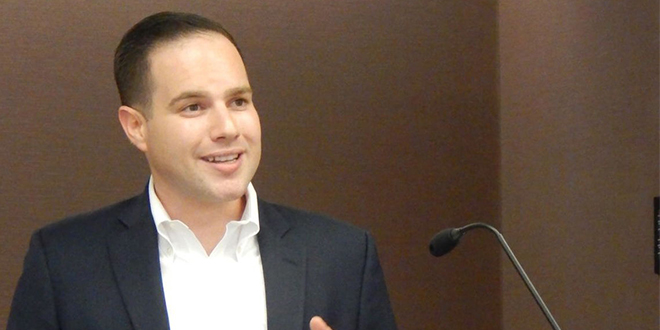 Article reprinted with permission from Cleveland Jewish News.
By Kristen Mott
Over the last decade, supporters of the boycott, divestment and sanctions movement have focused their campaign in the U.S. primarily on college campuses. But the BDS movement appears to be slowing down, according to Jacob Baime, executive director of the Israel on Campus Coalition, causing activists to adapt and shift their strategies.
"BDS, what you come to realize, is just the latest name for age-old anti-Semitism that is dedicated to destroying the Jewish people, that is dedicated to destroying their homeland and now, the strategy is to harden the hearts and the minds of Jewish students against Israel and against those very students' heritage," Baime said during a program titled "Taking Back the Campus" July 28 at the Jewish Federation of Cleveland in Beachwood. "Their single goal is to make Israel toxic to millennials on campus through all means possible."
This strategy, Baime suggested, is losing its impact. Of the roughly 2,400 four-year institutions in the United States, only 33 had BDS resolutions proposed last academic year, a 30 percent decrease from the prior year. And according to a poll conducted by ICC in cooperation with the Israel Project in Washington D.C., only 50 percent of college students said they were aware of the BDS movement.
"What I think this data shows us in part is that BDS itself as a strategy has hit a wall on campus," Baime said. "As bad as it looks on certain campuses, as bad as it looks at certain moments, things are actually starting to get better on campus with the hard work of our entire coalition. We're starting to have the impact that we wanted."
But the work is not done, Baime cautioned. While the BDS movement may be slowing down, the supporters behind it are changing their strategies.
Anti-Israel activists are expanding their coalitions on campuses, Baime said, and are collaborating with other social justice and progressive groups like Black Lives Matter and LGBTQ organizations. They also have stepped up their tactics, he said, organizing protests, using harsher rhetoric and even sending death threats.
"I believe they're testing and probing the limits of what is acceptable, what passes as acceptable anti-Israel activity on campus. It's absolutely essential that we continue to put up walls," he said.
In order to combat these tactics, the ICC has expanded its focus and increased its efforts. Baime said the organization is working out of a new national operations center in Washington, D.C., where staff monitor real-time anti-Israel activity happening on college campuses, create campus-specific action plans and work with coalition partners on a local and national level to implement these strategies.
Baime added that pro-Israel groups need to empower college students by giving them the tools to be proud to be Jewish and proud to support Israel and letting them lead the charge on campus.
"Our community, the American Jewish community, has finally woken up, and we've seen the threat that they pose," Baime said about anti-Israel activists. "We're fighting back on campus. The best part is we're doing it in a more unified and more effective and more customized and agile fashion than ever before."
By the Numbers
75 percent of college students nationwide said anti-Semitism is a problem in the United States
85 percent said anti-Semitism is a problem in the world
61 percent said anti-Semitism is a problem on college campuses
- Spring 2016 survey conducted by the Israel Campus Coalition and the Israel Project
---
Related Items