05/24/2022
Teens: Apply for Saltzman Youth Panel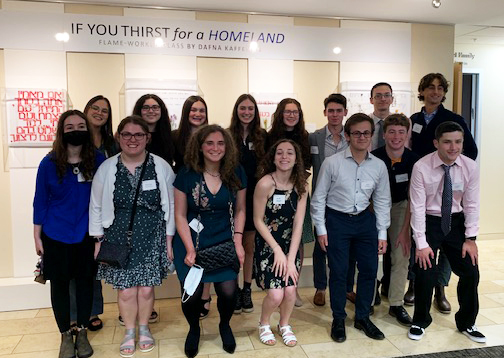 Applications are now open for the 2022-2023 Saltzman Youth Panel.
This program educates Jewish Cleveland students about the philanthropic process and responding to Jewish and general community needs
The Saltzman Youth Panel recommends the distribution of up to $50,000 in grant funding to worthy programs in the Jewish and general communities. Participants will develop their leadership and group consensus building skills as they learn about the community, decision-making, leadership, and most importantly, tzedakah.
Applications for the 2022-2023 cohort are being accepted! Apply Now >>
Who: High school juniors and seniors
Cost: Free
Application Deadline: Friday, August 5, 2022
Session Schedule:
Tuesday, August 23: Student and Parent Orientation, 7 - 8 pm (In-person and Zoom Option)
Sunday, August 28: Campaign Super Opening (title in the works): 2:30 – 3:30 pm Teen Outreach Hour (Drop off Commitment Forms, meet the staff, schmooze with fellow participants, help raise money for the Campaign)
Sunday, September 18: Session 1, 2:30 – 4:30pm
Sunday, October 23: Session 2, 2:30 – 4:30pm
Sunday, November 13: Session 3, 2:30 – 4:30pm
Sunday, December 11: Session 4, 2 – 5 pm
Sunday, January 22: Session 5, 2:30 – 5 pm
Sunday, February 12: Session 6, 2:30 – 5 pm
Sunday, March 19: Session 7, 2:30 – 5 pm
Sunday, April 30: Session 8, 2:30 – 5 pm
Saltzman Youth Panel Reception and Board of Trustees Meeting: May TBD, 3 - 6 pm
The current plan is to host all sessions in-person, following CDC guidelines. Sessions may occur online via Zoom if needed to ensure panelists' safety. 
Teens are responsible for attending and participating in two Outreach Hours during Campaign, as well as various assignments between sessions.
Students do not need to be affiliated with a synagogue or Jewish organization to apply.
For more information, contact Anna Novik at anovik@jewishcleveland.org or 216-593-2844.
---
Related Items