05/05/2017
Teens Grant 42,500 for Community Needs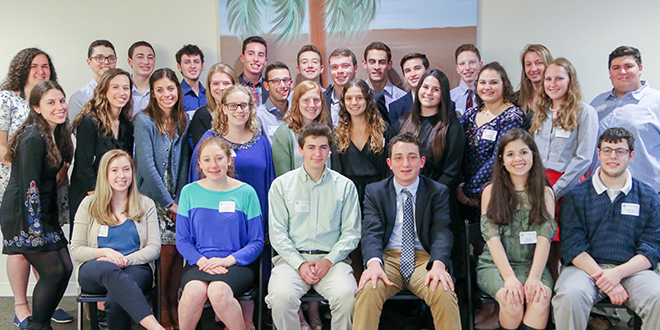 40 Jewish high school juniors and seniors representing public and private high schools across Cleveland have come together to recommend grants totaling $42,500 to 10 organizations for crucial programs in the Jewish and general community through the Jewish Federation of Cleveland's 2016-2017 Maurice Saltzman Youth Panel.
Saltzman Youth Panel was established in 1998 through a generous gift from Shirley Saltzman (z"l) and her family in memory of the late Maurice Saltzman. The program perpetuates the goals of Maurice Saltzman, a past president of the Federation who cared deeply about educating the next generation of Jewish community leadership. Each year, a new Saltzman Youth Panel makes decisions to allocate up to $50,000 to worthy organizations – 85% of which are awarded to programs serving the Jewish community. The other 15% is awarded to non-profit programs serving the general community. Through this process, the participants learn about the philanthropic process and responding to community needs.
Natalie Korach, a junior at Shaker Heights High School, and Joshua Robbins, a junior at University School, presented the panel's recommendations to the Federation's Board of Trustees on May 4, 2017. Recommendations from the panel were unanimously approved by the board.
"In crafting a Request for Proposals, we explored our own involvement in the Jewish community and issues we care about," said Robbins, when describing the panel's decision making process to the Board. "It was interesting to see the wide range of passions within the panel. It was amazing to work together to create a request for proposals that reflected our group's communal values."
Some of the Jewish community grants included $6,000 to Hebrew Shelter Home to provide transportation assistance to clients (including bus passes, cab vouchers, and gas cards), $6,000 to Jewish Family Service Association (JFSA) to provide subsidized services to older adults who cannot otherwise afford them (including dental care, medical supplies, hearing aids, and eyeglasses), and $5,259 to the American Jewish Joint Distribution Committee (JDC), a Federation partner, to subsidize backpacks and basic school supplies for Ethiopian-Israeli children.
Prior to the Board of Trustees meeting, panel members and their families gathered for a reception to celebrate their accomplishments. Federation President Stephen H. Hoffman congratulated the group on their successful collaboration and philanthropic spirit. Panelists commented on how much they learned about community needs, evaluation of grant proposals and the struggle to prioritize needs when resources are limited.
Panel members, selected through a competitive application process, met seven times throughout the school year. They created a Request for Proposals, reviewed grant applications, learned about consensus decision making and, in the end, had a tremendous impact on programs and organizations which improve the lives of others.
For information about submitting nominations or obtaining an application for the 2017-18 Saltzman Youth Panel, please contact program coordinator Leora Lanzola at llanzola@jcfcleve.org or 216-593-2798. Application deadline is September 7, 2017.
View photos from the Final Reception.
---
Related Items