11/05/2018
Thank You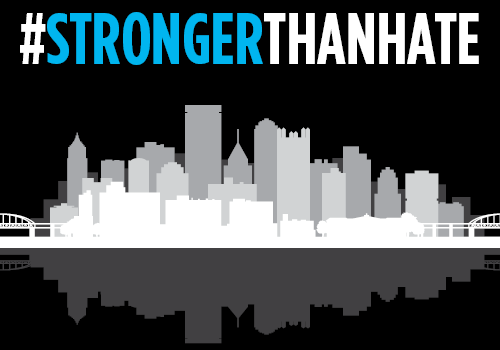 We cannot properly express our deep gratitude and appreciation for the outpouring of love, comfort, and support we have received since the anti-Semitic act of violence that took place at The Tree of Life Synagogue in Pittsburgh, PA on October 27, 2018.

Thank you for every message of sympathy and encouragement – as well as every offer of assistance. Your words mean more to us than you know.

Thank you for joining the community vigil last Monday. It was incredibly healing to be able to stand with more than 1,500 other members of our diverse Greater Cleveland community. Together, we are truly Stronger Than Hate.

Thank you Senator Sherrod Brown; Caryn Candisky, District Director for Senator Rob Portman; Congresswoman Marcia Fudge; Congressman Dave Joyce; State Representative Kent Smith; State Representative Janine Boyd; Cuyahoga County Executive Armond Budish; Beachwood Mayor Martin Horwitz; Alex Lackey of the Office of Cleveland Mayor Frank Jackson; Cleveland Heights Mayor Carol Roe, Shaker Heights Mayor David Weiss; Solon Mayor Ed Kraus; University Heights Mayor Michael Brennan; Pepper Pike Mayor Richard Bain; Orange Village Mayor Kathy Mulcahy; Woodmere Village Mayor Ben Holbert; and Mayfield Village Mayor Brenda Bodnar – as well as members of several city councils – for your support and for standing by our side.

Thank you Mayor Jackson, Chief Williams, and the City of Cleveland for the strong public stand you took against hate. Your words and actions remind us how lucky we are to be a part of the Greater Cleveland community and we are moved by the tribute to the global Jewish community that lit the landmark Terminal Tower building.

Thank you to Bishop Roger Gries; Reverend Ken Chalker; Bishop Mark Hollingsworth; Pastor Richard Gibson; Pastor John Lentz; Reverend A. Paul Collins; Masroor Malik; and Reverend Otis Moss Jr. for your prayers, spiritual guidance, and words of wisdom. We have no doubt you love us, stand with us, and will not be moved.

Thank you for your prayers and for talking to your friends and family – especially your children – about the dangers of remaining silent in the face of hatred. In Jewish tradition, we say "Kol areivim zeh l'zeh," which means "We are all responsible for one another." Tragic hate-driven murders like those in Louisville and Pittsburgh over the past two weeks are sad reminders that our work to build communities of tolerance, understanding, and compassion is far from done.

Thank you all for never giving up the fight to rid our world of divisive hate.