11/30/2015
A Thanksgiving Dinner in Israel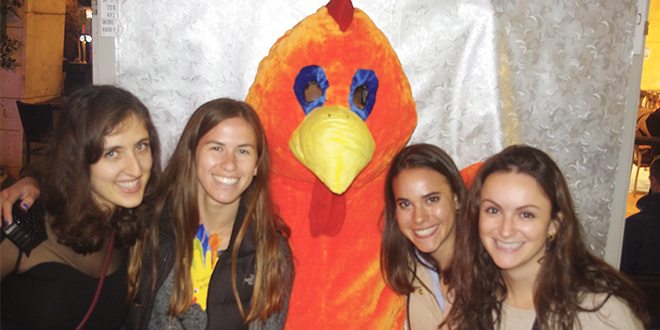 This Thanksgiving, an American tradition made its way to Israel. The Jewish Federation of Cleveland and Masa Israel Journey sent Cleveland young adults a taste of home.
"This holiday brought our community together to experience the warmth of Thanksgiving thousands of miles from the place we call home," said Jessica Evans, a Masa Israel Teaching Fellow living in our sister city of Beit Shean, who helped lead the Thanksgiving program.
After a festive dinner and conversation, a Turkey mascot surprised the Clevelanders with Thanksgiving cards and well wishes from their parents at home. Many Jewish Clevelanders who chose Masa Israel connect to their program through I-Connect, an initiative of the Jewish Federation of Cleveland that provides young adults with opportunities to experience Israel in whatever way they choose.
To learn more about I-Connect, visit www.jewishcleveland.org, or contact 216-593-2866 or iconnect@jcfcleve.org.
---
Related Items