08/04/2020
The "Heart" of Jewish Cleveland
How Three Organizations Came Together To Ensure That College Students Would Have an Impactful Summer During the Pandemic
Around 23 million Americans filed for unemployment in April 2020 – not including the millions of college students who have not entered the work force yet, many of whom planned on doing so this summer. Adam Hirsh, executive director of Hillel at Kent State University, a Federation beneficiary agency, recalls that it was "heartbreaking to hear of all of the cancelled jobs, internships, trips and other planned summer experiences" of the students he works with.
The idea to create the hybrid of a program that is now the L.E.V. Campus Fellowship came during what in hindsight was just the start of the rapidly evolving pandemic COVID-19. Jared Isaacson, executive director of Cleveland Hillel, a Federation beneficiary agency, remembers how he and his coworkers "…all personally felt the chaos of things changing dramatically around March 15. Professionally, we noted the huge shift in our organizational life because not only were we affected but our students were affected in that school and their lives just stopped."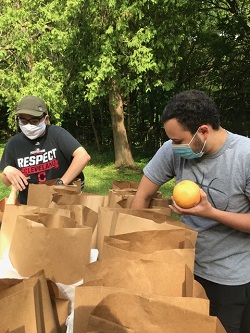 The abrupt shift in life on campus made it a priority for both Isaacson and Hirsh, as well as their staff, to ensure that their students felt connected, supported, and "had a safe place to turn to as everything else in their lives was swiftly changing."
Both Hirsh and Isaacson noticed how many of their students were looking to Hillel to help them structure informal connections as opposed to programs. Isaacson says, "As we got closer to the end of the school year, we anticipated that the students' perspective would change a bit once the semester finally ended and they saw that they may end up having more free time this summer than they had imagined. At that concurrent perspective, we were also looking at our [Cleveland Hillel's] summer internship program (SIP CLE) and realizing that not all the companies that we usually rely on will be able to sustain an intern this summer."
In a typical summer, the Cleveland Hillel summer internship program hosts 35-40 participants. This summer, that number is closer to 20. Two challenges arose for Cleveland Hillel, says Isaacson. "Not only did we have to scramble to figure out how we could make the summer internship program happen, we also had to think about all these other students who were not part of our program – ones who would be facing the same challenges brought on by cancelled plans."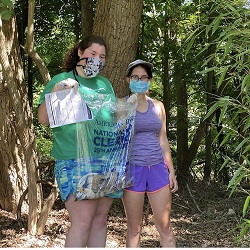 And that is when Hirsh, Isaacson and the Jewish Federation of Cleveland began brainstorming of a meaningful solution for these college students. Isaacson says, "We knew from Hillel's work internationally – whether it's Jewish learning or volunteerism – that there are fellowships out there that we could model that would provide some sort of stipend for students who were left jobless while also providing meaningful content as part of the curriculum."
In an incredibly short timespan, the L.E.V. Campus Fellowship came into existence; a four week-joint initiative between Cleveland Hillel, Hillel at Kent State and Federation. Hirsh recalls the reaction to this program from college students dramatically exceeded all expectations – with over 100 college students enrolled in this program from 44 different universities across the country!
Hirsh describes, "L.E.V." stands for "leadership" "education" and "volunteering" – the three pillars of the program. He is quick to mention that there is another intentional use of the program name; the word lev in Hebrew means "heart." According to Isaacson, the name "just made sense."
Hirsh explains, "The L.E.V. Campus Fellowship asks participants to give of themselves and nurture their community through acts of Tikkun Olam (repair the world)." Each L.E.V. fellow is required to attend a number of development sessions led by community leaders. The second component is Jewish education. Broken up into cohorts, educators from a variety of Hillels run sessions with the participants, encouraging meaningful dialogue. Hirsh mentions that, "The biggest time commitment is that we ask all fellows to complete at least 20 hours of volunteering – either virtually or safely in person."
What is the incentive in this for students? "The students were looking for a way to make a difference in their community and we are very grateful to be able to offer them $500 if they successfully complete the fellowship," says Hirsh. Proudly, he says, "Nearly all of our participants are on their way to completing that goal."
Mollie Goldman, a Cleveland native and L.E.V. participant who has been spending her time volunteering at The Friendship Circle, describes how many other students in the program are Jewish Clevelanders. "It's really useful for me to be able to connect – or in some cases reconnect –with other young adults in the community. You never know what these connections could lead to in the future." In addition, Goldman mentions how this program has bolstered her Jewish identity, something that she will need upon her return to University of Maryland this fall.
"Having this ability to interact with so many people of various backgrounds and religious levels has really helped me become aware of different subsets and cultures within our one big culture," she says. "This is something that I find to be incredibly useful for my future regarding anything that I end up doing and anyone that I interact with."
Hirsh talks about the impact he and his colleagues have witnessed already since the onset of the L.E.V. Campus Fellowship on the Cleveland community. Students spend their time helping out in places like the Greater Cleveland Food Bank, Cleveland Chesed Center, American Red Cross, Friendship Circle, JFSA, Bellefaire JCB, and Mandel JCC while others have been making phone calls to those who have become isolated during the pandemic through Jewish Federation's Caring "Connecting" Calls Program. "There will be at least 2,000 volunteer service hours accumulated through this program and we expect many more."
Even though she is still spending most of her time at home, Goldman explains how gratifying it is to know that at the end of this program, she will have participated in conversation, volunteered, and learned with so many other students that, like her, did not know what their summer plans would look like at the end of their spring semester. Goldman describes, "With this fellowship, there's tangible results. It's something that I log into multiple times a week, join in dynamic discussion while also continuing to volunteer for Friendship Circle. At the end of it I'll have completed a meaningful fellowship that, at the start of this summer, I had no idea that I'd have the opportunity to take part in."