03/04/2020
The History of Soviet Jews in Cleveland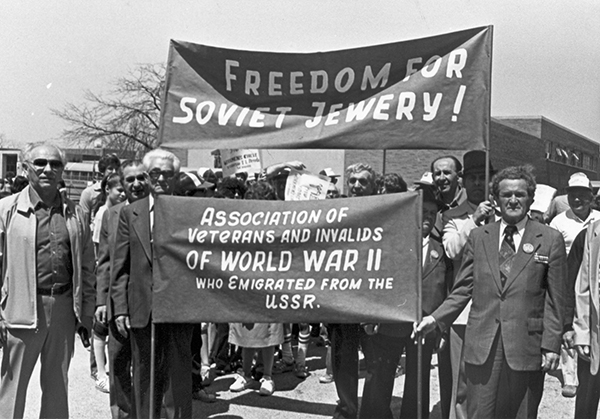 From a description of the Soviet Jewish Oral History Collection at Western Reserve Historical Society:
From the 1970s to the 1990s Soviet Jews left the Soviet Union to escape antisemitism and to find better opportunities for themselves and their families. Cleveland's Jewish community played an active role helping Soviet Jews emigrate from the Soviet Union and resettle in the United States, and especially in Cleveland, from the 1960s to the 1990s. The Cleveland Council on Soviet Anti-Semitism (CCSA) was a volunteer organization whose goals were to assist Soviet Jews to emigrate, to inform the American public about Jewish activities in the Soviet Union, and to monitor antisemitism in the Union of Soviet Socialist Republics (USSR). The CCSA, the first organization of its kind in the world, was established in Cleveland, Ohio, in 1963 through the efforts of National Aeronautics and Space Administration (NASA) scientists Louis Rosenblum and Abe Silverstein, Veterans Administration Hospital psychologist Herbert Caron, and Rabbi Daniel Litt. The four men, members of Beth Israel The West Temple, were supported by the congregation which provided volunteer workers and office space for the CCSA.
The CCSA sought to educate the public regarding the plight of Soviet Jews at a time when the problem was not generally recognized. The success of the organization was recognized nationally and it became a model for other local groups. By 1969, five other councils had been established and in February 1970 the six organizations joined to create the Union of Councils for Soviet Jews (UCSJ) to share information and to strengthen the movement nationally. In 1966, the Jewish Community Federation of Cleveland became the first federation in the United States to support this issue by providing funds for the CCSA's educational activities.
In 1973 the Jewish Federation of Cleveland established a task force on Soviet Jewish refugees that urged the United States government to grant refugee visas to Soviet Jewish immigrants and lobbied for sanctions against the Soviet Union for restricting exit visas. The Jewish Family Service Association helped recent immigrants settle into life in the United States by helping immigrants find housing and get access to government programs. Other organizations, including the Hebrew Immigrant Aid Society, the Jewish Community Center, and the Hebrew Free Loan Association, among others, also helped recent immigrants. During the early waves of immigration, Soviet Jewish immigrants settled in Cleveland Heights. Later immigrants began to settle in Mayfield Heights and the eastern suburbs.
Read an inspiring story from ideastream on how the Cleveland Public Library is helping Jews, of Russian descent, stay connected to their heritage through books.
For more information on our work overseas, contact Ilanit Gerblich Kalir at ikalir@jcfcleve.org or 216-593-2815.