06/14/2017
The Internship of a Lifetime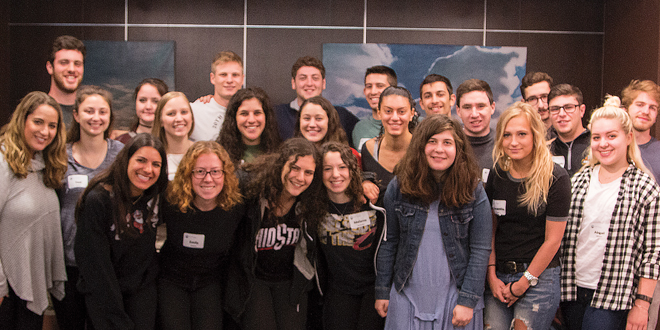 For the next eight weeks, 43 Jewish Cleveland college students and recent grads will have the experience of a lifetime! That's because they're spending the summer interning in Tel Aviv as part of Onward Israel, a program funded through I-Connect, an initiative of the Jewish Federation of Cleveland.
Many of them are stepping out of their comfort zone to "have fun, be brave, and be unafraid," as one participant puts it. Over these next two months, they're hoping to not only jump start their future careers, but they're looking forward to making lifelong friends, immersing themselves in Israeli culture, and communicating with locals.
Here's what some of the participants had to say about their upcoming trip:
Melanie Blumenthal (interning at Hinuch L'psagot, a non-profit focused on education):
"I am looking forward to building a connection with the people who I am going to be working with and to gain experience and knowledge in my field. This experience will help me to step out of my comfort zone while in a foreign country and enhance, or further, my personal Jewish identity!"
Sam Terkel (interning at Waves Audio, a developer of audio hardware and technology):
"This will be an exciting, exploratory, and potentially life-altering summer in which I will likely learn about myself and will grow understandings about human behavior and culture, both by being immersed in Israeli culture and removed from American culture. I am looking forward to exploring a new city rooted in a culture different than the USA."
Kendra Kaplan (interning at City Kids, an English center for young families):
"This experience means a lot for me – overall, it gives me a chance to grow by stepping outside of my comfort zone and diving into a new culture and people. I'm looking forward to meeting the kids and directors I'll be working with for the summer. I feel lucky to be able to spend such an extended amount of time in such a beautiful country. I plan on going back to Israel to teach English someday, so this will be a good test."
Trevor Yasinow (interning at Signals Analytics, a global technology company):
"I am most looking forward to fully emerge into the young professional culture that envelops Tel Aviv and the fun experiences that come along with it."
Elizabeth Ostriecher (interning at Darkenu, a non-profit focused on social justice):
"Onward Israel is a gift! I've been given such a great opportunity. What I'm looking forward to most is learning as much as I can this summer through my work, but also through my experiences and the people I'll meet."
Samantha Feuer (interning at Film Platforma, a media company):
"Personally, this experience means a lot! It makes me excited because it's a great opportunity in a one-of-a-kind country. What I'm most looking forward to is the Israeli culture and the food – I've honestly missed it since my time studying at Tel Aviv University."
Mazel Tov to all of this year's Onward Israel Cleveland participants:
Abigail Nikiforovs, Alexander Gordon, Alexander Rogoff, Carly Brodax, David Kaye, David Bohm, Elizabeth Oestreicher, Emily Friedman, Gabrielle Williams, Hannah Frayman, Jamie Spain, Jared Goodman, Jesse Mansoor, Jordan Longstreth, Kendra Kaplan, Lucie Shiffman, Max Bleich, Maya Spector, Melanie Blumenthal, Meryl Becker, Meryl Schor, Michael Posta, Nomi Poprish, Ryan Ayzman, Ryan Willen, Samantha Feuer, Samuel Seidman-Eisler, Samuel Terkel, Samuel Weinberger, Sarah Gasdick, Trevor Yasinow, Zachary Izeman
To learn more about how you can experience Israel through I-Connect, contact Mirit Balkan at mbalkan@jcfcleve.org or 216-593-2921.
---
Related Items