04/01/2014
Thomas W. Adler and Greater Cleveland Food Bank to Receive Charles Eisenman Awards at Jewish Federation of Cleveland Annual Meeting on April 8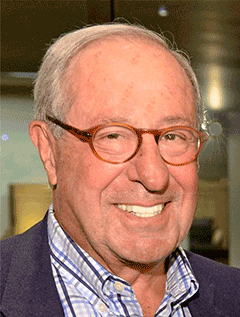 At its 110th annual meeting, the Jewish Federation will honor a 90-year tradition by recognizing two recipients of the distinguished Charles Eisenman Award for exceptional civic contributions: Thomas W. Adler and the Greater Cleveland Food Bank. Guest speaker at the event will be recently announced winner of an Anisfield-Wolf Book Award, Ari Shavit, author of My Promised Land: The Triumph and Tragedy of Israel. The annual meeting, free and open to the community, is set for Tuesday, April 8, at B'nai Jeshurun Congregation, 27501 Fairmount Boulevard in Pepper Pike.
Active in the Jewish community and general community, Adler is perhaps best known for decades of imaginative leadership of the Playhouse Square Foundation, where he has served as chair and spearheaded numerous projects contributing to the resurgence of its theaters. He has also been deeply involved with the United Way of Greater Cleveland, where he currently co-chairs the Philanthropists Society, and Cleveland State University, where he provided the impetus for the school's signature scholarship program helping students stay in school, and where he chairs the board's Development Committee.
Adler has helped energize ongoing revitalization of the city's center through pivotal roles in the Greater Cleveland Partnership, Downtown Cleveland Alliance and Euclid Corridor Improvement Project, and benefited his home community of Shaker Heights as a leader of three school levies and two tax levies and founding co-chair of Friends of Shaker Square. His particular expertise and dedication to the development of human resources and financial resources have marked leadership involvement at the Jewish Federation and many other organizations.
The Greater Cleveland Food Bank last year provided more than 40 million meals in a six-county region. In 35 years since its formation by a grassroots group concerned about hunger, the Food Bank has forged partnerships with schools, libraries, neighborhoods centers, religious institutions and other community organizations to enhance the efficiency of food distribution while often strengthening the mission and stature of those partners. It has also enlisted many grocers and other food providers in its cause, salvaging significant amounts of food that had been going to waste.
The central priority of serving children, constituting nearly half of all recipients, has materialized in innovative programs like BackPack for Kids, providing an entire weekend of food, and Kids Café, ensuring that children will have a full dinner at home. The Food Bank's emphasis on nutrition has given rise to community gardens while its overarching commitment to making food easily accessible has manifested in mobile pantries.
In recent years Food Bank efficiency was refined further with the incorporation of Food Rescue of Northeast Ohio and the merger with the Greater Cleveland Committee on Hunger, home of the Harvest for Hunger food and funds drive.
In addition to presentation of the Charles Eisenman Awards and remarks by Shavit, an acclaimed Israeli journalist and political analyst, the annual meeting will include the election of Federation trustees and a brief address by Jewish Federation Board Chair Reneé Chelm. The program will be followed by a dessert reception (kosher dietary laws observed). The event is free and open to the community.