07/09/2019
Travel Blog: 2019 Adler Civic Leaders Mission to Israel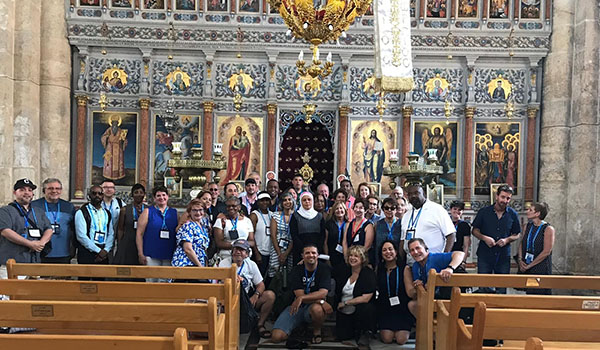 Thirty-nine esteemed Cleveland civic leaders are in Israel on the Adler Civic Leaders Israel Mission. This biennial mission, launched by Thomas and Joann Adler of Shaker Heights, was established through an endowment at the Jewish Federation of Cleveland. The purpose is to expose leadership from across Cleveland to Israel's innovative approaches to economic and community development, education and support of at-risk and disadvantaged populations, and to create opportunities for partnership with each other and Israeli counterparts.
Read about their experience below!
June 17, 2019
by Ron Soeder, President, Boys & Girls Clubs of Cleveland
A great morning begins as Luis and I head for the beach at 5:30 am. I head out for a long walk with the sea in the distance. It's really active – runners, walkers, bikers, and the sounds of the sea. It's truly beautiful and makes me reflect on the things we take for granted. I thought about my wife, kids, grand-kids, and all the messages from Boys & Girls Club members, staff, and parents wishing me a Happy Fathers Day! How blessed I am, and the walk in Tel Aviv makes me more aware of this blessing.
Part of our group is assembly I am officially "number 31" and our hosts Joannie and Tom Adler are 1 and 2, respectively, and rightfully so. Thank you, Joannie and Tom, for this life changing opportunity.
We're back on the bus after an incredible visit to The Yitzchak Rabin Center. I have to say I didn't know this history, but I admire Rabin's strength, courage, and role as a peacemaker. It is incredible how leaders like Rabin, Kennedy, and King share values of peace, love, and care for their countries. Remember life in Israel, it's "complicated." It's not a coincidence that Jeff Epstein sat next to me, as he was in Israel when Rabin was assassinated.
Our next stop is Lod, the second oldest city in Israel. We visited a the Church of St. George, a Greek Orthodox Church. We learned about this neighborhood that is 75% Arab and 25% Jewish. We heard from Hilda and the struggle of male dominance, and her victory and escape from her domination, and that she is now going to university. In case you're wondering, she kept her family together and her husband celebrated her Ted Talk.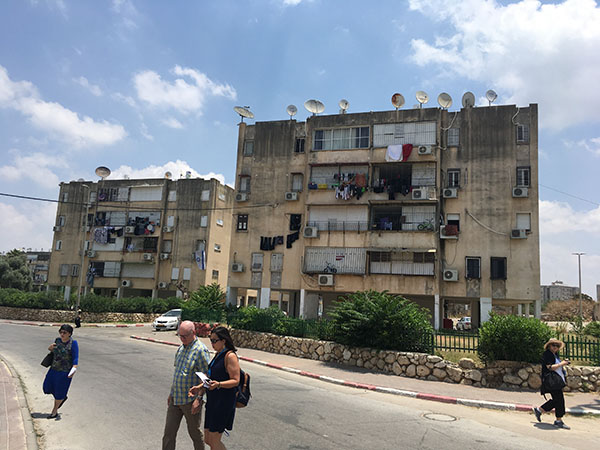 At the Lod Young Adult Center, we met some amazing young people who discussed the issues of the country and the community. The optimism came from relationships with Arabs and Jews, and the impact they had in their programs. They were less optimistic about the government and lasting peace. It's clear that problems exist in both of our countries.
As we have learned, Israel is very complex. All in all a great day.
I will close with a few facts about Israel:
Population: 9 million
Jewish Population: 7 million
Muslim Population: 1.8 million
Christian Population: 180K
Have a good night see you on the beach!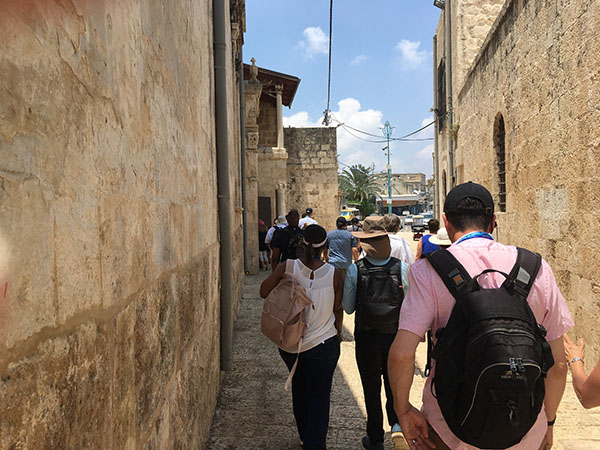 June 18, 2019
by Lori Wald, Community Relations Committee Vice Chair
Today was several days long.
Our first stop was at Givat Haviva, the Jewish Arab Center for Peace, where Samer, the educational director, explained his three rules for a shared society:
Be partners in decision making
Have equality in distribution of resources
Accept me; accept my identity
On the bus ride to Havat HaShomer, we wrestled with the intractable problem of Israel: if Israel is a Jewish state and also a democratic state, how do you accomplish sharing a society with a group of people who are a culture separate and apart and a culture you fear? We also engaged in a frank and difficult discussion about the parallels between the discrimination faced by Israeli Arabs with the discrimination and fears faced by African Americans in the U.S.
We arrive at Havat HaShomer, the Israeli army base that gives at-risk youth a second chance and were served the kind of meal we're becoming accustomed to: multiple courses of magenta and green vegetables, tomatoes and cucumbers, a bit of chicken or couscous and vegetable kugel. We hear from confident female commanders and a couple of the successful soldiers.
Next stop: Randy recites the Beatitude against the backdrop of the Sea of Galilee. At Capernaum, several of our group brave the steep rocky climb to dip their feet in the lake. Everyone survived.
Tonight there were costumes and dancing and exploration of what signifies identity at Moshav Yardena followed by a multi-course meal of brightly colored vegetables and several Kurdish delicacies.
June 19, 2019
by Renny Wolfson, Past Community Relations Committee Chair
I noticed a few familiar faces sucking in their tummies on the Tel Aviv beach: Sorry, folks - Too little, too late.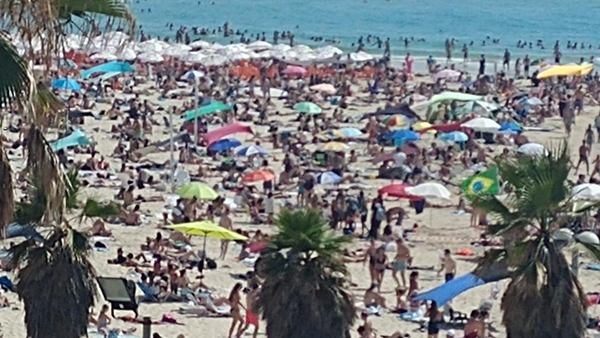 On the other hand, filling our tummies doesn't seem to pose a that big a problem. While we may be enjoying the best strictly dairy breakfast buffet anywhere (did you notice there wasn't any meat? No mixing meat and dairy in a kosher meal!), somebody should tell the Michelin folks to sample the falafel in Lod!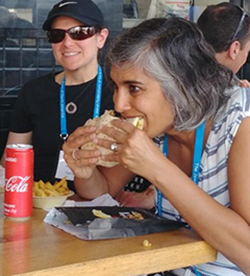 And by the way, Jeff gets the nomination as Bartender Educator of the Year for helping all of us become experts in scotch that's smoky versus scotch that's…ashy? sweet? hot? spicy? Funny?
How about learning how Israeli social workers and administrators deal with problems just like ours? A park in Tel Aviv that used to be a zoo? Who, Brian, had to make that tough decision? Trouble in Lod getting a housing project approved? Nothing Jeff, Denise and Kate don't handle day in and day out! How about a run-down neighborhood with three different ethnic/religious groups to try and herd in order to improve local services – nothing Tania and Tim haven't struggled with. And let's not forget domestic violence, women's empowerment, single mothers, and of education funding. Did we really leave Cleveland?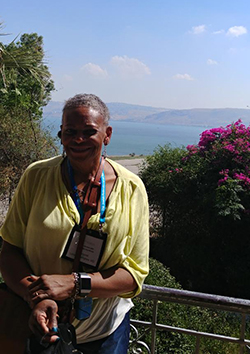 In Hebrew, putting it all out there is "Talking Takhlis" and that's what our group does. Is one racism better than another racism? Where's the line between security and abuse? Zionism represents the aspiration for a Jewish nation with democratic values. Is Israel still the Zionist state? Should we single out Israel for criticism when every other country in its neighborhood is a repressive political or religious dictatorship? Does ignoring those countries and focusing only on Israel itself represent a kind of racism? Nobody is holding back – and that kind of candid honesty and communication was what Joanne and Tom were providing when they conceived the Adler missions.
One of the great thrills is watching people of faith dip their toes in the Sea of Galilee. Seeing it at such a special place, where many believe Jesus walked on the water was really great!
Finally, How about the Federation? Thanks for making our trip so special!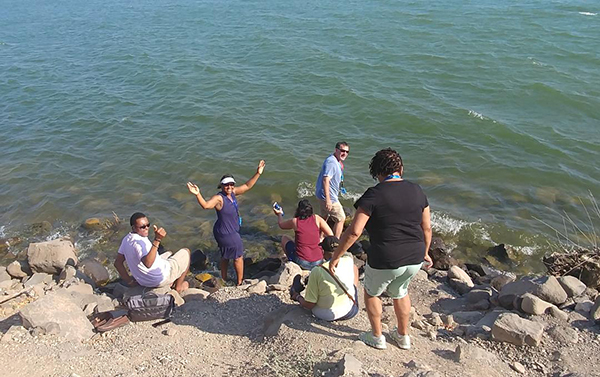 June 20, 2019
by Natalie Leek-Nelson, President & CEO, Providence House
Day 5 of our mission... So many sites seen and still to be seen in our few remaining days. So many fascinating, passionate, and brave people we've met in our journey. So many discoveries as we travel across this beautiful and resilient country. As I reflect on today and those earlier in our journey, I find myself feeling an overwhelming sense of pride for Cleveland's important influence and impact in Israel.
Our day began at Hebrew University in Jerusalem, which opened in 1925 – 23 years before Israel became a Jewish State – in the belief that learning and innovation were necessary to support a vibrant society. From the moment we entered this brilliance was apparent: from founding board members like Einstein, Freud, and Rothschild, to a display of Nobel prize winning faculty and the "Innovators Way" corridor featuring HUIJ faculty who have transformed the fields of science, agriculture, and medicine… including our speaker, Professor Simon Benit, Co-Director of the Cleveland Clinic and Hebrew University's Center for Transformative Nanomedicine Partnership sharing the exciting new directions in medicine and pharmacology using innovations in nanotechnology. A new and powerful Cleveland partnership in Israel!
Our second stop was with mentors of the Youth Futures program in East Jerusalem at Kiryat Moriah's Jewish Agency's Educational Campus, a flagship program of the Cleveland Federation. A truly heroic team of four mentors, notably Palestinians working for the Jewish Agency, spoke with us about their important work with East Jerusalem youth despite daily personal challenges, such as checkpoints early every morning, in order to be on time to mentor their high-risk students. The group's local director said despite the challenges facing him and his team as Palestinians in Israel, "I feel equal here (at the Jewish Agency)." Members of our mission group are dedicated to offering whatever we help can to assist their efforts to support their vulnerable youth in East Jerusalem. Stay tuned for a possible future partnership with CLE!
Our last formal stop of the day was Yad Vashem – Israel's National Holocaust Memorial museum. Again, name after name of Cleveland supporters helping to realize this haunting memorial. Powerful, moving, heartbreakingly sad, yet overwhelmingly inspiring in its spirit of hope. This visit was a launchpad for a deep discussion among our group about today's issues of race, culture, and policy – in Israel, the U.S., and Cleveland. It brought us to an emotional rally point, compelling us to commit to address these issues together after this trip and give voice and action to proactive efforts for equity.
As we prepare for our next day in the Old City and the start of Shabbat tomorrow evening, I am looking forward to more new experiences. As a Christian woman, I am grateful and open to the truly honest and intimate sharing of Jewish history, faith, traditions, and friendship that have been extended to me and my 38 fellow pilgrims on this mission. Thank you Tom and Joanie Adler and the Jewish Federation of Cleveland – you have welcomed us to learn more about you, your story, and your homeland – and just as importantly to learn more about ourselves and our fellow travelers on this and our longer journey through life as fellow human beings.
June 21, 2019
by Dr. Margaret Larkins-Pettigrew, Assistant Dean, Office of Student Affairs, School of Medicine at Case Western Reserve University
A New Narrative: A New Journey
Number "15" became part of my identity as I was given an opportunity to be part of new chapter in the lives of the 39 strong. Numbers became a part of the new narrative as I reflected on how powerful they can be when a group of people organize to make what is thought to impossible possible.
Used to describe the horrors of those lost and survived during the Holocaust, those lost in battle during the destruction of the first and second temple, those who chose suicide instead of slavery and those blessed by the hands of Jesus to walk, witness, forgive and prosper through serving others, numbers hold a significant meaning in our past, present and future.
"39" strong was given a different lens to witness a different set of numbers. The number of adults and children, both Jewish and Arab that see hope instead of despair, faith instead of fear, love instead of hate and growth in place of death and destruction. "39" strong was also challenged to be honest, transparent and raw as we visited the historical events and corners of the world that revealed the intricate yet complicated patterns of lives, practices in the name of faith and political decisions that have played a role in defining who we all are today.
The open dialogue of race, bias and practiced discrimination that affects African-Americans, Latinos and all people of color started a trusted dialogue for some yet sparked a new and uncomfortable space for others. If the goal was to place "39" leaders from different lived experiences with different faiths, political affiliations and expertise but like hearts, minds and commitment to serve together in a space that challenged each and everyone of us to look within, this goal was met and exceeded expectations.
Numbers are significant. History tells us that we must be intentional, taking risks and making decisions with kindness, dignity and respect. That risks may result in failing for a time but that we can never accept failure as a theme in our lives. "39" strong accepted the challenge to continue to change the narrative. "39" strong committed to collaboratively bring honesty and transparency to those we serve in Cleveland. "39" strong began forward thinking as to how creating innovative services could enrich and foster the New State through visionary transformation.
Number "15 "is humbled to be part of the "39" strong and the new narrative.
---
Related Items