11/10/2015
Art Exhibit Connects Clevelander, Israeli
Article reprinted with permission from Cleveland Jewish News.
Solon man, Amnon Weinstein's wife share rare family photo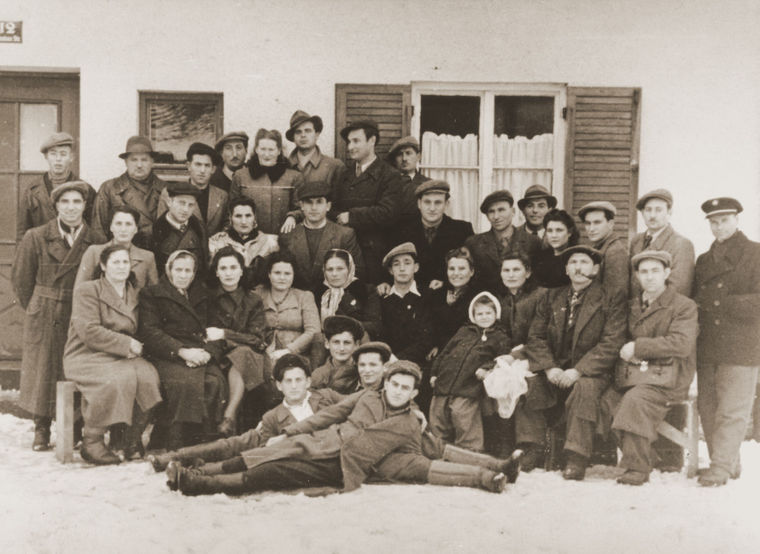 By Carlo Wolff
Imagine what Robert Zelwin felt when he saw his relatives in a black-and-white photograph from April 1948 showing a group of former members of the Bielski Brigade in a displaced persons camp in Germany.
Among those partisans: Zelwin's parents.
The shock of recognition came over Zelwin's face in mid-October, when the Solon resident met Assi Weinstein, wife of Violins of Hope founder Amnon Weinstein, in connection with the opening of Daniel Levin's photographic exhibition, "Amnon's Workshop," at the Roe Green Gallery in the Jewish Federation of Cleveland building in Beachwood.
In a recent telephone interview, Zelwin said the meeting came about through Hedy Milgrom, vice president of endowments and development at the Federation, a fellow member of B'nai Jeshurun Congregation in Pepper Pike. Milgrom invited Zelwin to lunch with her and the Weinsteins.
When the conversation turned to World War II and its aftermath. Zelwin asked Assi Weinstein where her mother went after the war. To a DP camp in Germany, she said.
"Where in Germany? Foehrenwald? Really?" is how Zelwin replicated the exchange. "My brother was born in Foehrenwald in a DP camp. She said, really? At which point Amnon reached into this briefcase and he pulled out his iPad and started fiddling around with it and he comes up with this picture, a picture I'd seen before."
The snapshot showed Zelwin's father and mother, his uncle, his brother's wife, and a cousin of his mother's. Zelwin's aunt is sitting next to Assi's mother.
"It was just amazing," Zelwin said. "It was just a very unique coincidence."
The ties strengthened about two weeks later when other Bielski partisans came to Cleveland, affirming Zelwin's impression that not enough people know of the Bielski brothers. It's the story of a Polish resistance group formed by Tuvia, Asael and Zus Bielski after the Nazis killed their parents in the Nowogrodek ghetto in Byelorussia, formerly Poland. The Bielski group saved Jewish lives and conducted anti-Nazi raids. It is the subject of the 2008 movie, "Defiance."
To Assi Weinstein, the encounter with Zelwin was memorable if not unique. In an email from Tel Aviv, she said she has met "hundreds of ex-partisans who survived in the Bielski brigade. Many lived in Israel. Many in the U.S. and some in Israel."
She did not know of the Zelwin family until she met Robert Zelwin in Cleveland, but there have been similar encounters with "people who knew my name (quite unusual in Hebrew: Assaela), were interested in its origin and then told me about their family who survived with the Bielskis."
"I was very happy to find Robert Zelwin so interested and knowledgeable about his parents past, and as always – it feels like family to meet descendants of partisans," Weinstein said.
---
Related Items