07/12/2017
Adults 50+: Volunteer in Beit Shean!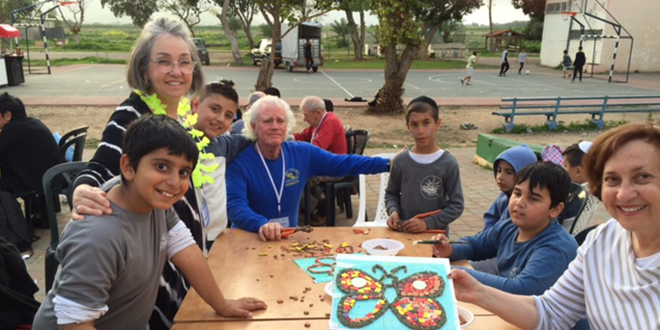 Seeking Adventurers with a Good Heart for Israel Volunteer Experience
The Jewish Federation of Cleveland is now seeking participants ages 50 and over for "Volunteer Beit Shean," a hands-on volunteer experience to Beit Shean, Cleveland's sister city in Israel. The city is known for its world-class hiking trails, beautiful natural springs, amazing bird watching, and spectacular ancient ruins. Volunteers will immerse themselves in Israeli culture while improving the lives of others.
Mission participants will get to know Israel in a personal and powerful way by enjoying authentic Israeli cuisine and making new friends. They will help the people of Beit Shean with daily hands-on volunteer opportunities that may include tutoring children and helping improve their English language skills or participating in an archaeological dig.
The 10-day program will take place from February 12 – 22, 2018. Program cost is $1,000 and includes room, board, touring, and all local transportation. Participants are responsible for their own airfare.
Participants are invited to an Information Session on Monday, August 7 at 7:30 pm at the Jewish Federation of Cleveland's Jack, Joseph and Morton Mandel Building (25701 Science Park Drive, Beachwood) to hear about this life-changing experience from mission alumni, connect with fellow potential travelers, and meet Israeli staff who will be leading the trip.
"We are trying our best to savor what we saw, smelled, heard and tasted," said Arnie and Carol Feltoon, participants from the 2017 mission. "With each passing day we felt more at home there, more attached to the land and its people. We look forward to a return to Israel hopefully in the not-too-distant future, with a visit to Beit Shean to renew friendships."
Volunteer Beit Shean is one of many volunteer opportunities offered through IMPACT!, the Federation's volunteer initiative for those ages 50+ that connects Jewish Clevelanders to meaningful and rewarding volunteer experiences in Cleveland and beyond.
To learn more and register for Volunteer Beit Shean or attend the Information Session, visit www.jewishcleveland.org or contact Susan Hyman at shyman@jcfcleve.org or 216-593-2887.
---
Related Items