04/25/2018
Volunteer of the Month: Barry Hersch
Find out how Barry Hersch is magically making an IMPACT! by volunteering.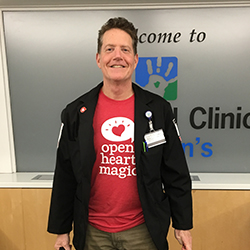 Q - What is your volunteering background?
I have always been open to hearing about different opportunities to help our community and willing to donate my time to organizations that need volunteers. Throughout my life, I've been very fortunate and feel a need to give back and create some joy and success to those who are not as fortunate as me. After seeing an opportunity in an IMPACT! newsletter to volunteer with Open Heart Magic, I knew I wanted to find out more. I have always had a passion for magic and volunteering, and this seemed like it would be a perfect fit. Open Heart Magic teaches community members magic and invites them to local hospitals to perform tricks for the children who are there.
Q - What type of volunteering do you look for?
I am always looking for different ways of giving back. I love kids and people that need a helping hand or direction in their lives. I also look for opportunities to help with animals. If I can brighten someone's day, make them smile, or help them forget about their worries, then I have made an impact. I get so much out of the volunteering. The more you give the more you get.
Q - How has your passion for volunteering grown since becoming involved with IMPACT!?
I met with Susan Hyman, the director of IMPACT! and Jewish Volunteer Network (JVN), and we went over the many volunteer options. Open Heart Magic is such a wonderful organization. If you ask any of the magicians what they get out of volunteering you will hear the same response. The children that we see are sometimes in the hospital for months. Some are very sick. Their days are spent in bed being poked and bothered all day and night. When we enter the room, the kids are excited to be entertained. By the time we leave the room, the children, siblings and parents are smiling and expressing their thanks to us. We have given them time away from a rough, stressful and sometimes unimaginable day. It is extremely rewarding.
Complete a Volunteer Interest Form Now >>
For volunteer opportunities or more information on IMPACT!, contact Susan Hyman at 216-593-2887 or shyman@jcfcleve.org.
---
Related Items