03/21/2018
Volunteer of the Month: Bob Cohen
Find out how Bob Cohen is making an IMPACT! by volunteering in our community.
Q - What is your involvement with IMPACT!?
My involvement with IMPACT! started at the beginning of the program. I'm now on the IMPACT! Advisory Committee and was Co-Chair for the first Volunteer Showcase. Through IMPACT! and the Jewish Volunteer Network (JVN), I have found many opportunities to volunteer around the Cleveland community including Cleveland SCORE, which helps thousands of entrepreneurs follow their dreams of successfully starting or growing a small business.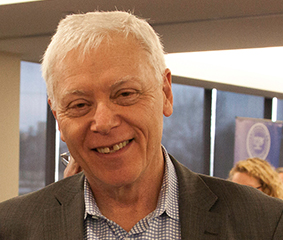 Q - What type of volunteering do you look for?
I always look for volunteer opportunities where I can be totally involved. IMPACT! has many volunteer options where I can be completely hands-on and involved in the way the organization operates. It's about making a difference not only for the person or people you're working with, but I feel like I'm making a difference for our entire community. I am committed to the causes I support and I look for ways to grow within the organization. I try to use the skills I have to make Cleveland a better place.
Q - How has the IMPACT! volunteer initiative assisted you in choosing your volunteer options?
A passion of mine is helping the community and giving back where I can. IMPACT! has helped me to stay active and in-touch with the community's needs. I have had the privilege of working in an advisory capacity with IMPACT! and I can see how the volunteer options are geared toward particular interests. I feel a sense of self-satisfaction and accomplishment, but it's more about the happiness I see in others. I also enjoy volunteering outside of IMPACT! as well. I have begun training as a Docent at the Cleveland Museum of ART, an Art to Go Docent, and Art Lens Host.
Complete a Volunteer Interest Form Now >>
For volunteer opportunities or more information on IMPACT!, contact Susan Hyman at 216-593-2887 or shyman@jcfcleve.org.
---
Related Items