06/06/2018
Volunteer of the Month: Marcia Schonberg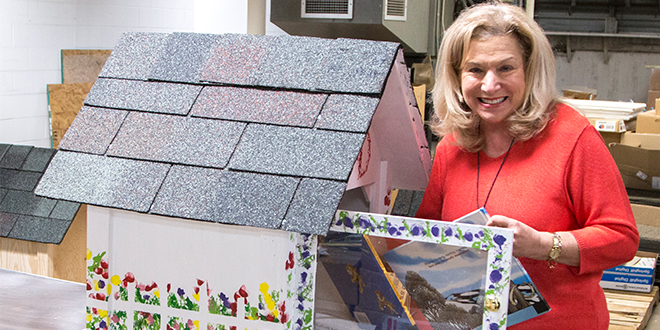 Find out how Marcia Schonberg is making an IMPACT! on volunteering.
Q – What was your profession?
I've always been an artist – through painting as well as writing. For me, feature and travel freelancing enabled me to share interesting stories with readers. As an author, I created nonfiction titles for children, along with a few travel books. I still write here and there, and perhaps there's another book waiting for me to write.
Q – How did you learn about IMPACT!
Shortly after relocating to Beachwood, a friend introduced me to this inspiring group. I love the camaraderie within IMPACT! and its focus of helping us find meaningful projects. For me, working on the Little Free Library enabled me to share my love of art, reading and writing (literacy). I have only a little time left after taking care of my youngest grandchild, but I foresee the possibility of expanding my involvement once she enters daycare.
Q – Why is it important for you to volunteer in and around the community?
I wasn't born or raised in Cleveland, but feel more connected here than many other places I've lived. Volunteering involves me in the community, opens pathways to learning about organizations and events that are new to me, and provides a way to share my strengths and values. I've helped at the Cleveland Book Bank and Jewish community events; IMPACT! allows me to look for avenues that are personally rewarding while impacting the lives of others as well. Even a few hours can make a difference. It's amazing the progress a small group of us make in just a morning or afternoon of combined effort. Most of all, the biggest impact is bringing joy to some; validity and support to others.
Q – How has the IMPACT! Volunteer Initiative assisted you in choosing your volunteer options?
It's so easy to pick and choose between a myriad of opportunities. This initiative collects the options and sets them out like a travel brochure. You can pick and choose what, where, when, how and why to participate. IMPACT! does the research for you.
Complete a Volunteer Interest Form Now >>
For volunteer opportunities or more information on IMPACT!, contact Susan Hyman at 216-593-2887 or shyman@jcfcleve.org.
---
Related Items