01/04/2019
Volunteer of the Month: Marv Gisser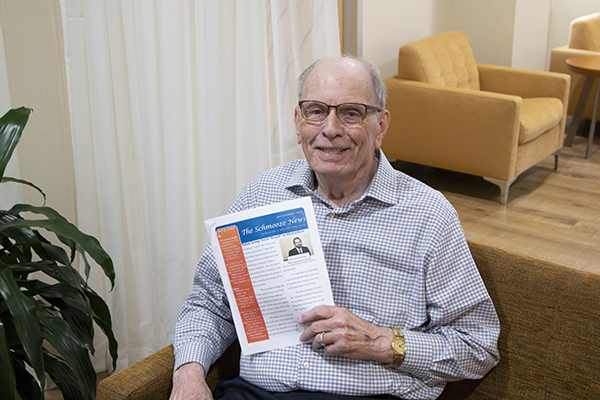 Find out how Marv Gisser is making an IMPACT! by volunteering.
Q – What IMPACT! volunteer opportunities have you been a part of? 
I currently volunteer at Montefiore and at the Jewish Archives of the Cleveland History Center of the Western Reserve Historical Society. At Montefiore, a Federation beneficiary agency, I write and edit a bi-monthly newsletter, The Schmooze News, which was named by a resident. At the Archives, I help correlate donated materials so there is an archival record of Cleveland-area Jewish people and organizations. 
Q – Why is it important for you to volunteer in the community? 
I had never thought of volunteering after working as a freelance writer for nearly four decades. I wrote for corporate, educational, public relations, and non-profit organizations. But now, I'm able to provide assistance where it's needed and perhaps help the bottom line of the non-profit organizations for which I volunteer. I've enjoyed every minute of it because I am able to meet and have social contact with others, something I had missed while working on my own from home.
Q – How has IMPACT! assisted you in choosing your volunteer options?
IMPACT! was able to pair me with two organizations that were looking for the skills I have. The work I do at Montefiore is similar to what I did when working full-time. Since I was a history minor in college and have written professionally about Cleveland's history, I had an interest in Cleveland's Jewish history for a long time, and the archives just seemed like a natural extension of my interest. Over the past several years, I have also volunteered on the scholarship committee of ILR (The Institute for Learning in Retirement), evaluating student essays at the Maltz Museum's "Stop the Hate" program, and serving as the de facto public relations person for Temple Israel Ner Tamid, where I also served one three-year term on the board.
For volunteer opportunities or more information on how you can make an IMPACT!, contact Susan Hyman at 216-593-2887 or shyman@jcfcleve.org.
Related Items