11/12/2018
Volunteer of the Month: Sally Wachter
Find out how Sally Wachter is making an IMPACT! by volunteering.
Q – Why is it important for you to volunteer in the community?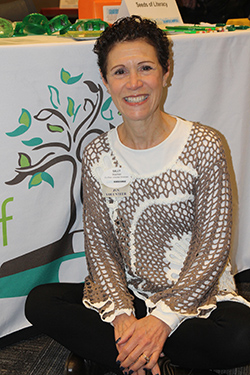 I have so much to be thankful for in my life and now that I'm no longer working, it is a priority for me to spend some time trying to give back. Shortly after retiring, I spoke with the IMPACT! team at the Federation about wanting to volunteer but didn't know what was available. I was thrilled with the amount of opportunities the Federation has available.
Q – What IMPACT! volunteer opportunities do you participate in?
I've been able to volunteer at InMotion, a nonprofit center dedicated to helping people manage their Parkinson's. I help out during one of their exercise classes that provides a comfortable, encouraging, and caring environment. Exercise has always been an important part of my life, and I believe it has a positive impact not only physically, but also emotionally and psychologically. I also tutor adults at Seeds of Literacy, an organization which provides individualized and personalized education to help adults pass high school equivalency tests. I'm passionate about literacy after all my years of teaching children. At Seeds of Literacy, I enjoy working with adults who are committed to furthering their education. I'm so inspired by these adults who are balancing jobs and a family, and still make time and an effort to study and work towards the goal of passing their high school equivalency test.
Q – How has IMPACT! assisted you in choosing your volunteer options?
Through the IMPACT! email newsletters, I'm able to find new opportunities – long-term and "one-day opportunities." Even though I'm retired, I love to be hands-on and interact with people. Through these opportunities, I've been able to develop several friendships with the people I volunteer with who share similar interests and skills. For me, I feel I'm giving back in some ways, learning from the people I interact with – to get outside the bubble I live in and get beyond my comfort level. And in small part, I'm supporting others as they face and endeavor to conquer challenges.
For volunteer opportunities or more information on how you can make an IMPACT!, contact Susan Hyman at 216-593-2887 or shyman@jcfcleve.org.
Related Items