09/24/2018
Volunteer of the Month: Sheila Allenick
Find out how Sheila Allenick is making an IMPACT! on volunteering.
Q – Why is it important for you to volunteer in and around the community?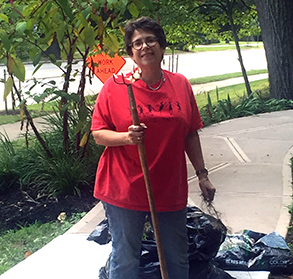 I visited the Hebrew Cultural Garden in the spring and started weeding as I toured the space. I love to garden and this allowed me to join two things that I am passionate about – Jewish Cleveland and caring for our community. I understand there is so much that can be done by volunteering in just a few hours twice a month, and IMPACT! provides so many opportunities to do that. I don't want to sit at a desk or in meetings; I want to take action where there are immediate results.
Q – What IMPACT! volunteer opportunities do you participate in?
I am working to help landscape, plant flowers, and clean up the Hebrew Cultural Garden throughout the year, and continue the work that Donna Yanowitz and others have done to maintain this gem which gives us a presence in the Cleveland general community. We are proud of how much our efforts have improved the garden's looks since we have started going there twice a month.
Q – How has IMPACT! assisted you in choosing your volunteer options?
I sought the Federation's IMPACT! team out. I enjoy the outdoors and was looking for more ways to make our community shine. IMPACT! assisted me in finding volunteers who enjoy gardening and preserving this landmark. The IMPACT! team is supportive in every way, but we could not do what we do at the Hebrew Cultural Garden without the tremendous support of volunteers Marty Saltzman, Marc Jaffe, Emily Jennings, Judy Feingold ,Bob Allenick, Lynne Friedman, and Morris Amon. This experience and the results are very rewarding when we make this impact together.
For volunteer opportunities or more information on how you can make an IMPACT!, contact Susan Hyman at 216-593-2887 or shyman@jcfcleve.org.
Related Items