09/04/2019
Volunteer Spotlight: Jamie and Arthur Stadlin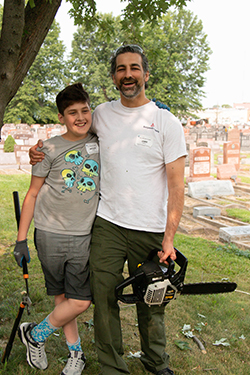 For a few years now, Jamie and Arthur Stadlin have made volunteering at the Jewish Federation of Cleveland's Cemetery Cleanup's a father-son tradition. Their impact on our community and the generations who have come before us show it's never too young to teach the mitzvah (good deed) of giving back.
Read 14-year-old Arthur's feelings on the family bond that's been created because of the Cemetery Cleanup:
"We volunteer with the Jewish Volunteer Network (JVN) for many reasons. I think they can find where the help is needed most because they have the ability to match volunteers with opportunities that fit, and because their staff is a pleasure to work with. My dad and I look for projects in which we can best apply our skills and talents to the task at hand, and we also look for opportunities that take us out of meeting rooms and into a more hands-on setting. Our family owns Dunn Hardware and sells the material and tools we use at the cemeteries.
The Cemetery Cleanup is important because preserving the memories of our ancestors is a huge mitzvah – the tomb stones and cemeteries, as a whole, are important part of that. It's also important to the neighborhoods in which these properties are located that they be kept clean and safe.
My grandparents have always been involved in every Jewish community where they've lived, and volunteering has helped build a bond between our family. For me and my dad, the Cemetery Cleanup is a twice-a-year tradition. It's a funny story how it all started. My family used to have a store in Slavic Village called Silverman's, and it was very close to two of the cemeteries that Federation manages. My dad felt a special responsibility to do something to help at those locations, so when he saw that there was going to be a community project there, he wanted to be involved. One Saturday night my dad said, 'Hey Arthur, you want to clean up a cemetery on Sunday?' The next morning my dad woke me up at 7; I had forgotten all about it. 'We need to go on,' he said. We left before eating breakfast – 'We'll get it after,' he told me. It then became a tradition to get pancakes after the cleanups, and something so meaningful and special I'm able to do with my dad."
Join Jamie, Arthur, and many others in the community at our annual fall and spring Cemetery Cleanups. For more information, contact Susan Hyman at shyman@jcfcleve.org or 216-593-2887
Related Items