10/05/2018
Volunteers, Donors Hope to Make It Another 'Super Sunday'
Article reprinted with permission from Cleveland Jewish News.
By Alyssa Schmitt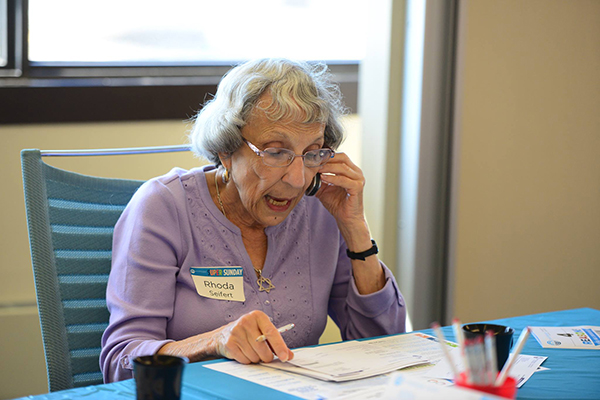 As the Jewish Federation of Cleveland's Super Sunday giveathon nears, veteran volunteer Rhoda Seifert prepares to reprise her role soliciting donations by reviewing the many causes to which Federation contributes and practicing her pitch to potential donors.
"You support the only organization in Cleveland that focuses on the health and vitality of the Jewish community," said Seifert, 84, extolling potential benefits. "The Federation provides relief in times of crisis that no one organization can do on its own. You have the security of knowing you are investing in a trusted community asset with a proven track record of making an efficient and sustainable impact."
While Seifert polishes her presentation, Super Sunday co-chair David Roth is prepping for the largest single-day giveathon for the Federation's 2019 Campaign for Jewish Needs. He said he's expecting more than 1,000 volunteers to show up Oct. 14 at the Jewish Federation of Cleveland's Jack, Joseph and Morton Mandel Building in Beachwood to assist in making calls to request financial support for those who can't ask themselves.
"This is the time of year that we, as Jews and as Clevelanders, get together and focus our combined efforts on improving our community," he said. "Super Sunday is a great day of community inspiration and unity. Dollars raised at Super Sunday are used to change and improve lives in Cleveland, Israel and around the world."
The event lasts from 9 a.m. to 7 p.m. and consists of four-hour shifts for volunteers, though Seifert said she plans to volunteer the whole day as well as the extra days that follow, when volunteers make additional calls. The event also includes family activities and performances. Children are encouraged to participate and help reach the goal of 10,000 donors by bringing in their tzedakah boxes. Kosher meals and snacks will be available.
New this year, people will have an opportunity to participate and engage online with Super Sunday, Roth said.
There will be increased Federation- and user-generated content, and people will be encouraged to use the #JewishCleveland hashtag across social media platforms so that regardless of where someone is during Super Sunday, they'll be able to see – and easily share – videos, pictures and other messages related to the campaign.
"We have expanded our digital capabilities, which include a wide range of shareable content for social media for volunteers to utilize when they join other people from across our diverse community," said Roth, who attends Anshe Chesed Fairmount Temple in Beachwood. "It will help increase community participation in the campaign through peer-to-peer fundraising and solicitations within their own personal networks."
Seifert, a member of B'nai Jeshurun Congregation in Pepper Pike, where she also volunteers, said she only donates to Jewish causes as there's a greater number of non-Jews to give to secular causes – though that doesn't stop her from donating her time to other causes, like the American Red Cross blood drives. While the Campaign for Jewish Needs helps support all Jewish causes, fighting anti-Semitism is among the issues she's most passionate about.
"There is so much anti-Semitism going on around the world that they have to help us support the fight against anti-Semitism. That is extremely important because anti-Semitism has been bigger than ever," she said. "That's why other people can volunteer for blood drives doing registration. I think it's so important to raise money for Federation and help fight anti-Semitism."
---
Super Sunday
WHEN: Giveathon from 9 a.m. to 7 p.m.; babysitting for infant to prekindergarten from 9 a.m. to 6 p.m.; children's activities for kindergarten to sixth grade from 11 a.m. to 4 p.m., all on Oct. 14
WHERE: Jewish Federation of Cleveland's Jack, Joseph and Morton Mandel Building, 25701 Science Park Drive, Beachwood
INFO: To register to volunteer, visit jewishcleveland.org
---
Related Items