07/25/2018
Volunteers Needed for Annual Fall Cemetery Cleanup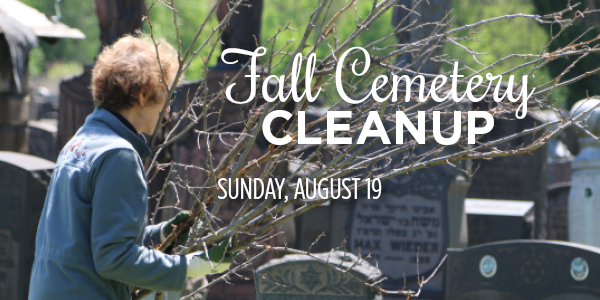 There is no greater mitzvah (good deed) than caring for those who came before us. Volunteers are needed for the Annual Fall Cemetery Cleanup hosted by the Jewish Federation of Cleveland's Jewish Volunteer Network and the Commission on Cemetery Preservation (COCP). The event will take place on Sunday, August 19 from 9:30 – 11:30 am at Ridge Road #2 Cemetery (3824 Ridge Road, Cleveland, OH 44144).
Volunteers are asked to bring weed trimmers, shovels, clippers, hedgers, gloves, wheelbarrows, and other gardening tools to help prune, rake, and spruce up the cemetery grounds prior to the Jewish holy days. All ages are welcome to participate in this community-wide event, rain or shine. Past Cemetery Cleanup events have attracted hundreds of people across generations and denominations.
Event Chairs are Dan Brown, Jeff Morris, and Judy and Marv Solganik.
To learn more or register, visit www.jewishcleveland.org, email volunteer@jcfcleve.org, or call 216-593-2887.
---
Related Items