06/28/2019
Volunteers of the Month: Harriet & Steve Friedman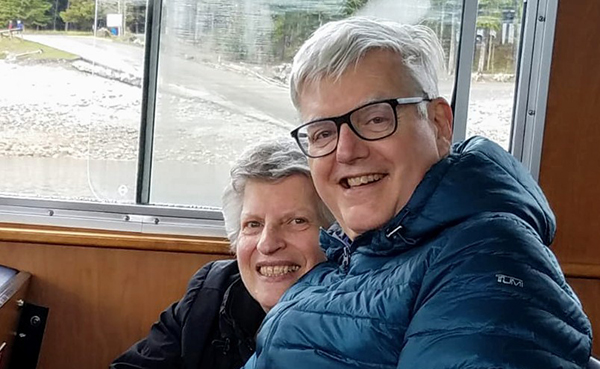 Find out how Harriet and Steve Friedman are making an IMPACT! by volunteering.
Q – Why was it important for you to begin volunteering in the community?
Harriet Friedman: I first learned about IMPACT! through an article in the Cleveland Jewish News when the program started. When I retired I knew that I wanted to volunteer for Face to Face, a Holocaust education program that was then affiliated with my synagogue, Congregation Shaarey Tikvah. I had many more hours available for volunteer activities.
Steve Friedman: I retired four years ago. I learned about IMPACT! from emails from the Federation and the volunteer opportunities that most interested me are those that allow me to continue the work that typified my career.
Q – What IMPACT! volunteer opportunities have you been a part of?
Harriet Friedman: I was a licensed clinical psychologist for many years. During that time I worked with developmentally disabled children and adults. Through IMPACT!, I decided to look into working with JFSA's Horvitz YouthAbility. I attended a meeting at the Jewish Federation of Cleveland where Heidi Solomon, the YouthAbility director, described the program which provides disabled young adults with opportunities to socialize, serve the community, and learn communication skills and behaviors that help with adjustment in vocational settings and the broader community. I now spend anywhere from two to five hours a week helping YouthAbility with a range of activities.
Steve Friedman: I have a Ph.D. in Psychology and my career path has been in mental health working for the County Jail; Frontline, Inc.; and the Cleveland Sight Center. A majority of that time, I worked with patients struggling with extreme cases. My current involvement with IMPACT! is as a mentor in the Foster Youth Mentoring Program for a child in the custody of the Department of Children and Family Services. The program, provided through Bellefaire JCB, seeks to match a mentor with a child or teen in the custody of the Department of Children and Family Services. The people we mentor live in residential facilities or foster or group homes, and our goal is to provide fun experiences and activities that the mentee might otherwise not have. One example: the program recently organized a day outing to Cedar Point which was a great hit for everyone who participated!
Q – How has the IMPACT! volunteer initiative assisted you in choosing your volunteer options?
Harriet Friedman: I hope that through the program I have established a mutual respect with YouthAbility participants and have helped to modify behaviors and learn skills. I am frequently impressed by the level of acceptance among the group members and the way in which better functioning individuals support and assist those who have greater levels of disability.
Steve Friedman: This program allows me to continue the work that characterized my career, which is important to me as I choose my volunteer opportunities. My hope is that this kind of work helps to prevent some of the more drastic outcomes that can characterize some of the adults who spend much of their childhoods in the custody of the Department of Children and Family Services.
For volunteer opportunities or more information on how you can make an IMPACT!, contact Susan Hyman at 216-593-2887 or shyman@jcfcleve.org.
Related Items