03/06/2019
Volunteers of the Month: Knitting Group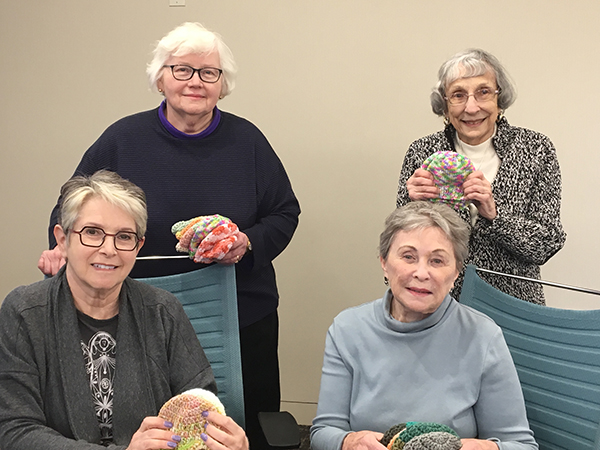 Find out how Maxine Brand, Joyce Goodman, Cynthia Spikell, Rhoda Seifert, Marilyn Peters, and Randi Waxman are "knitting" an IMPACT! by volunteering.
Q – How is the Knitting Group making an IMPACT! in the community?
A – IMPACT!'s Knitting Group originally made baby caps for Babies Need Boxes, which provides supplies and educational resources to Cleveland moms with babies up to six months of age. Baby boxes, first made available in Finland to combat the country's infant mortality rate among low-income mothers in the 1930's, provide a safe, economical sleeping environment for babies living in impoverished conditions. The program became so popular it quickly expanded to other countries. Locally the program is now under the guidance of Neonatal Intensive Care Unit (NICU) at University Hospitals Rainbow Babies & Children's Hospital and seeks to reduce Cleveland's infant mortality rate.
Q – How has the Federation's IMPACT! volunteer initiative assisted you in finding a volunteer opportunity that's perfect for you?
A – We all worked in various industries during our careers – everything from marketing, business, education, and more. Once we retired, we looked for ways we could help out around the community. Through the monthly IMPACT! eNews, we discovered the Knitting Group. It's getting together with friends – talking about life, kibitzing about our grandkids. And we look forward to seeing each other every month! Of course, we continue to make the caps and blankets at home, but it's the time we spend together that gives us the most joy.
Q – Why is it important for you to volunteer in the community?
A – It means so much to us that we're knitting these hats and other small blankets for the next generation in our community. Knitting gives us a good feeling knowing you're helping others less fortunate, not just in Jewish Cleveland, but all over Greater Cleveland. We're able to give back to the community, and help out families who aren't able to provide some of the basic necessities. This makes life worthwhile if we can make a difference in our community.
To join the Knitting Group or to learn about other volunteer opportunities, contact Susan Hyman at 216-593-2887 or shyman@jcfcleve.org.
Related Items