05/24/2023
Volunteers Turn Out to Spruce Up Chesed Shel Emeth Cemetery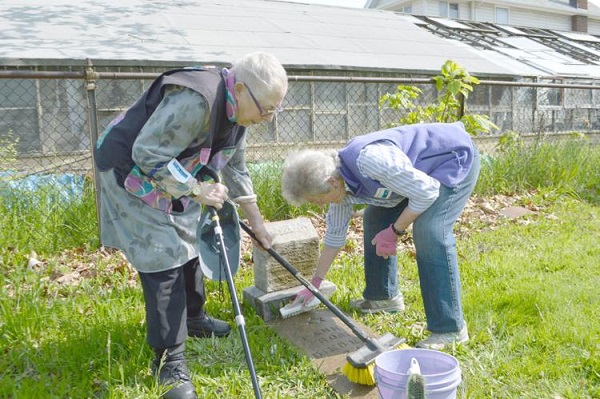 COURTNEY BYRNES

Article reprinted with permission from Cleveland Jewish News
The Jewish Federation of Cleveland held its annual spring cemetery cleanup May 21 as over 100 volunteers, including more than 30 students from Chaviva High School, spent two hours of their morning cleaning Chesed Shel Emeth Cemetery in Cleveland.
For over 20 years, the Federation has held annual cemetery cleanups in the spring and fall with volunteers of all ages at the several Jewish cemeteries it manages. At Chesed Shel Emeth, volunteers were tasked with clearing leaves and branches, cleaning headstones and painting fences.
"Doing this sort of volunteerism is the greatest mitzvah because we're doing things for people that can never say thank you to us," Lisa Hacker, senior director of the Jewish Volunteer Network, told the Cleveland Jewish News. "It's really viewed as one of the greatest mitzvot a person could do because we're taking care of people (who) are no longer with us and can never repay us for what we're doing."
Douglas Fox, business director at the Federation, told the CJN many of the Jewish cemeteries they manage are older, but still active. These older cemeteries pose some maintenance challenges with closer graves and larger headstones, but share a rich history.
To connect people to their families who are buried in the Jewish cemeteries, the Federation keeps an online database through accessjewishcleveland.org and often receives calls from people looking for their relatives. For the past 10 or more years, Helen and Paul Wolf have attended the annual cemetery cleanups with binders listing the burials at the cemetery, helping those there find and learn about their relatives.
"Because I'm so involved with genealogy and researching my family, my husband's family, so that I can give something to my children and grandchildren, I think it's important for those that are interested to be able to find their ancestors and give respect to those who maybe nobody's come to see in years – and that's so that they aren't forgotten," Helen Rosenstein Wolf, past president of the Jewish Genealogy Society of Cleveland, told the CJN.