01/15/2016
We are a United Community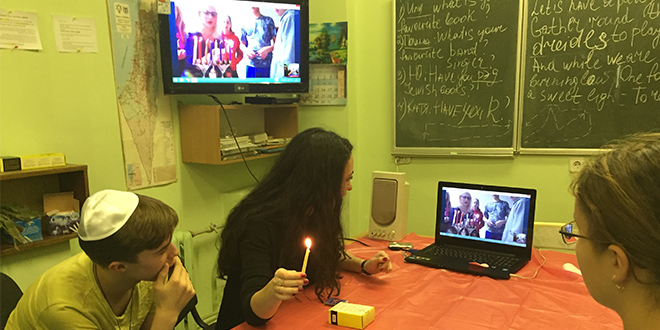 From Cleveland to Russia: We are a United Community
The last day of Chanukah this year was extra special.
While most of us were at home with our families, a few kids from Beth Israel-The West Temple on Cleveland's west side and from Kaliningrad, Russia, were huddled in front of computer screens. No, they were not playing video games. They were on a skype call, lighting the last candle of Chanukah.
These young kids, thousands of miles away, came together on this day to celebrate Chanukah and their new friendship. Singing "Banu Hoshech Legaresh," they connected as Jews, no matter the distance.
This friendship is the latest initiative of the Jewish Federation of Cleveland's Overseas Connections Committee (OCC) that continuously strives to build and strengthen Jewish community worldwide.
"It's very special that a town on the periphery of St. Petersburg and a congregation on the west side of Cleveland are connecting over their Jewish identity," said Barry Feldman, Chair, St. Petersburg Subcommittee.
For decades the Federation has forged a personal and powerful connection with the people of St. Petersburg, Cleveland's sister city, helping them build a strong, vibrant Jewish community in Russia. Through a range of programing including Jewish identity camps, care for the elderly, leadership development programs, cross-cultural partnerships, and more, the Federation has helped this community establish self-sufficiency so that Jewish life can live on.
"Whether you live in Cleveland, Israel, or Russia, it's important that we all learn from each other. We're one community. A partnership like this strengthens that connection and our Jewish community worldwide," said Feldman.
---
Related Items