06/18/2020
We Hear You and We are Here for You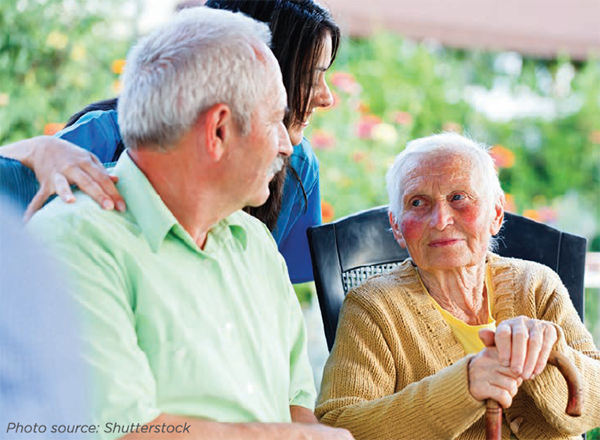 "No one ever asked me how I'm doing," shared Howard, 89, speaking about his life as a caregiver for his 83 year-old wife Judy.* "I felt all alone and now I feel heard, and am so grateful for the help. I really don't know what I would do without this program."
Howard is referring to the newly created Jewish Community Dementia Care Path Program, which supports individuals with Alzheimer's and dementia and their caregivers with professional case management and care coordination services. With offices at Jewish Family Service Association (JFSA), the program is a collaboration between the Jewish Federation of Cleveland, JFSA, and community partners. Case management by the specialized Dementia Care Navigation team provides intensive intervention to help families manage complex situations and make referrals to resources as needed, to alleviate caregiver stress and empower families to live well with dementia.
Howard has been the main caregiver for Judy, who has been diagnosed with dementia, and has been hesitant to trust anyone else with her care. Though they visit often, most of Judy and Howard's family lives out-of-state. During her most recent visit, Howard and Judy's daughter felt helpless and contacted Access Jewish Cleveland (at the Federation) to get information on local dementia resources. Ellen Miller, director of Access Jewish Cleveland, referred Judy and Howard's daughter to JFSA's Older Adult services and the Dementia Care Navigation team.
Hannah Thompson, a care navigator, met Howard and Judy in their home and listened as they explained their situation. She gathered information to holistically evaluate their needs and work with them to create a plan. At first, Judy was resistant to receive help from a new person. Hannah built trust with the couple through weekly meetings and assisting with needed tasks like driving Judy to her bi-weekly hair appointments.
The patience and care Hannah offered encouraged Judy to open up about her symptoms. Hannah began making necessary referrals that immediately gave peace of mind to Howard and Judy's out-of-state family.
Hannah's reliable support is a relief for Howard, who spends most of the day caring for his wife, a role for which he felt unprepared. After processing the challenges with Hannah, Howard also hired a home health aide to assist with Judy's personal care in the evenings. As Howard and Judy's needs continue to change, they know their care navigator and the Jewish community will be there for them.
With more than 4,000 Jewish Clevelander's impacted by Alzheimer's and dementia, the Jewish Community Dementia Care Path Program demonstrates how the Federation plans for the health and vitality of the entire Jewish community, collaborating with partners to meet our community's most critical needs that no one organization could do alone.
This years-long process began with findings from the Federation's 2011 Population Study. An increased need for dementia care support was highlighted and the Federation convened the Nakum Task Force to respond. Comprised of community members, physicians, rabbis and other professional leadership with diverse perspectives, the task force was asked to research the issue, identify needs, and make recommendations for programming.
The task force found that, regardless of financial resources, caring for a loved one with dementia at home was emotionally overwhelming and difficult to coordinate. As a result, the task force recommended creating a robust navigation program to provide case management for families managing dementia, as well as increasing opportunities for caregiver education and support.
Additionally, the Savvy Caregiver, a six-session education and support program, is now offered at locations around the community to help families develop knowledge and skills to care for their loved ones with dementia. Caregivers attend the evidence-based education and support program and the family member with dementia is offered free, onsite programming at the same time. One participant from the Savvy Caregiving program, (most caregivers are women in their 50s and 60s) expressed that "being able to share our experiences and ideas with each other is worth more than gold. I'm grateful to know other people who understand what I'm going through."
This important but costly program was made possible with a grant from the Federation's Unrestricted Endowment Fund. With the Federation's commitment to raise the required funds and the thoughtful research and recommendations made by the Nakum Task Force, JFSA applied for and was awarded a three-year matching grant from the Department of Health and Human Services. This cooperative agreement comes with rigorous evaluation, strict oversight of the work plan, and more than $800,000 over three years.
Since its inception in 1903, the Federation's commitment to act as a safety net for the most vulnerable in our Jewish community remains steadfast. As our community evolves, so do our needs. Alongside our community partners, the Federation responds quickly to take our communal responsibility of caring for each other seriously so that each generation of Jewish Cleveland may go from strength to strength.
For more information about the Jewish Community Dementia Care Path Program or The Savvy Caregiver call 216-378-8440. Access Jewish Cleveland offers a free and confidential resource and referral service. No question is too big or too small. No issue is too personal. Call 216-292-INFO (4636) or visit accessjewishcleveland.org.
*Names have been changed to protect anonymity.