12/23/2022
'We Know We Can't Fight Antisemitism On Our Own'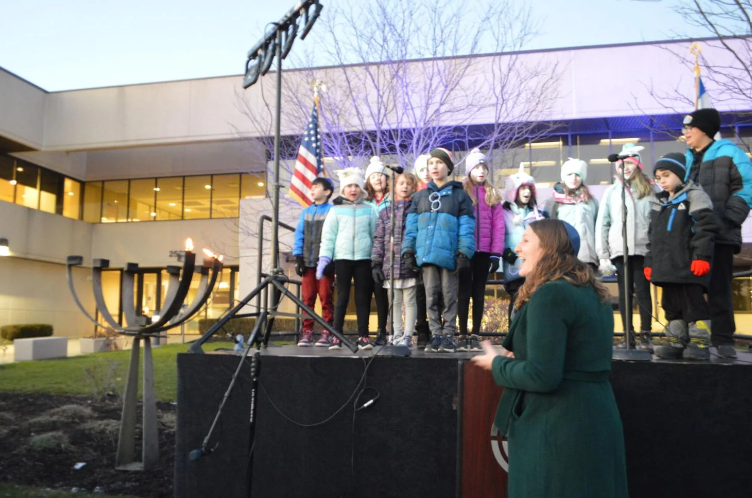 COURTNEY BYRNES | STAFF REPORTER
Article reprinted with permission from Cleveland Jewish News
To "Shine A Light on Antisemitism," the Jewish Federation of Cleveland held a special Chanukah menorah lighting ceremony Dec. 20, with remarks from community leaders about the rise in antisemitism and the importance of standing together.
More than 275 people from across the Jewish and secular Cleveland community came together to listen to Bishop Edward C. Malesic of the Catholic Diocese of Cleveland; Helen Forbes Fields, president and CEO of YWCA Greater Cleveland; and Rabbi Hal Rudin-Luria , Senior rabbi of B'nai Jeshurun Congregation in Pepper Pike, as they expressed Chanukah wishes and solidarity with the Jewish community on the third night of the Festival of Lights.
The event, part of the national "Shine A Light" initiative, was hosted in the Federation's front courtyard outside its Jack, Joseph and Morton Mandel Building in Beachwood in partnership with the Anti-Defamation League, American Jewish Committee Cleveland, Facing History and Ourselves, Mandel JCC, Kol Israel Foundation, Maltz Museum and The Diversity Center of Northeast Ohio.
"I feel so privileged to have this event where we shine a light on antisemitism on the third night of Chanukah," Gregg Levine, outgoing chair of the Federation's community relations committee and a member of the Cleveland Jewish Publication Company Board of Directors, said in opening remarks. "It's a very, very special event that is taking on a national perspective. It's taken the story of Chanukah, the story of the Festival of Lights, to champion the message that one small light can dispel darkness and hatred."
He pointed to the partners of the event and many local elected officials in attendance, including U.S. Rep. Shontel Brown, Ohio Rep-elect Steve Demetriou, Solon Mayor Eddie Kraus and Malia Lewis, president of the Cleveland Heights-University Heights Board of Education.
"The Jewish community makes up only 2% of the American population," Levine said. "We know that we can't fight antisemitism on our own. We know that we have to work together to fight all hatred. That's why it is so meaningful to us that so many of our non-Jewish friends, neighbors and community partners are here this evening, standing up with the Jewish community, celebrating the Festival of Lights together, and together shining the light on antisemitism."
Malesic extended happy Chanukah wishes from the Catholic community and expressed solidarity with the Jewish community, saying it is one of his primary responsibilities to combat all forms of hatred and division.
"... I was bishop of Greensburg, which is about 34 miles east of Pittsburgh, and I was there during the Tree of Life synagogue tragedy," he said. "It affected all of us – I know it affected the Jewish community throughout the world – but being a citizen in the neighborhood of Pittsburgh, it affected all of us that ... such a tragic thing was even possible. (It's) unthinkable and should never be repeated, but we know we must continue to fight for peace, work for peace."
Fields spoke about the powerful statement that is made when marginalized communities stand together during uncertain times and looked to the civil rights movement as an example.
"We must remember at the peak of the civil rights movement, our communities worked side by side to achieve freedom and liberation," she said. "Black and Jewish leaders worked together here in Cleveland successfully advocating for the outlawing of restrictive covenants that often limited both groups access to housing and to set us all apart as the 'other.' They did this because it was understood that the fundamental truth that our struggles, and the struggles of all marginalized people, are all bound together. Tonight, we are allowing our light to shine as a call to action."
Before the menorah was lit by Cleveland shaliach Itay Margalit, Gabe Rubanenko, Ari Rudin-Luria, Gavi Kalir and Ben Sosin during a special performance by the Zamir choir from B'nai Jeshurun Congregation, the synagogue's Senior Rabbi Hal Rudin-Luria shared some final remarks. He said the light of the menorah is a sign of hope, resilience and Jewish pride, but in times of danger, the rabbis advise to move the chanukiah inside so that it is not outwardly visible.
"But tonight, even with the rise of antisemitism, we proudly light this chanukiah outdoors to shine a light on antisemitism because we know that a Chanukah candle is never alone and neither are we," Hal Rudin-Luria said. "We won't let this rising tide of antisemitism determine how we practice and celebrate our Judaism."