12/08/2017
West Side Mother Teaches About Chanukah with PJ Library Books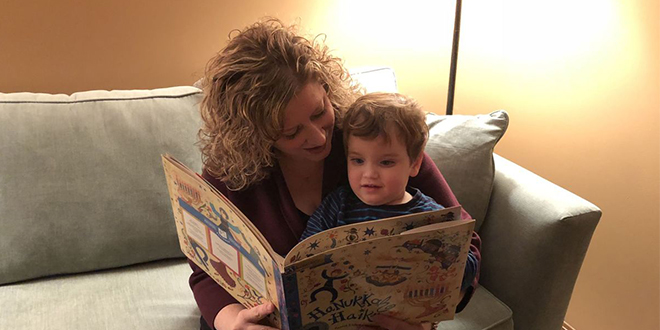 Article reprinted with permission from Cleveland Jewish News.
by Amanda Koehn
Last year around Chanukah, Rebecca Kopp Levine noticed that despite interest in Jewish traditions amongst teachers at her son's day care in Westlake, there were no other Jewish families and very little knowledge of such traditions within the school.
Thus, she sought to change that via help from PJ Library – a nonprofit program that sends free Judaism-themed books to Jewish children around the country, including her son Andrew, 1.
"When it came time for Chanukah, you know there are all these Christmas decorations everywhere, and his teachers are really great and were asking us about the traditions and what occurs, and they wanted to be sensitive to us," said Levine, a Westlake resident. "So, I donated the PJ Library books that we got to the classroom and the teacher read to them," she said, adding that she also brought in a menorah for the kids to see.
Andrew, who attends The Goddard School, is too young to read himself, however Levine said he gets excited when the books come addressed to him in the mail. Moreover, as Levine and her husband are both half Jewish and involved with jHUB – a program to engage interfaith families in Jewish culture – it's important to them to instill a sense of Judaism in Andrew, as well as educate those around them on the culture and religion.
The Jewish Federation of Cleveland is PJ Library's local partner. Leah Kasmenn, manager of young family engagement at the Federation, said the books are sent to children based on their age, and they show diversity.
"The Chanukah books we have that are sent from PJ Library present members of the Jewish family celebrating with non-Jews, so the books themselves are showing diversity," she said, adding that one of her favorites is "Queen of the Hanukkah Dosas," by Pamela Ehrenberg, which is about a family with an Indian mother and a Jewish father who make dosas, an Indian-style pancake, instead of latkes for Chanukah.
Aviva Roland, senior planning and allocations associate at the Federation, said the books are shown to be popular among interfaith families as well, pointing to a 2016 PJ Library Family Survey that found in Cleveland, 24 percent of families who subscribe to PJ Library are interfaith.
"We think the books are fantastic and that the books are just a tool – the first step in a conversation," said Roland, adding that she and Kasmenn also work to connect Jewish and interfaith families, and the books are a pathway to doing so.
Moreover, Levine's strategy was a success. She said the children in her son's class were engaged in story time while they were read the Chanukah books she donated. The owner of the school also invited her to teach the children about Jewish holidays once Levine's son and his classmates are older.
"My plan is each year I will keep donating books so the school has books for all the other kids that are going to come as well," said Levine, adding that she also baked rugelach last year for the school's holiday party when other parents made Christmas cookies. "It's just little things to help them realize that everyone is not the same."
In partnership with the Jewish Federation of Cleveland and the Harold Grinspoon Foundation, PJ Library® in Cleveland is generously funded by Mort (of blessed memory) and Iris November in celebration of Debra Ann November's life.
Sign up to receive PJ Library books >>
---
Related Items