02/02/2016
Why Day School?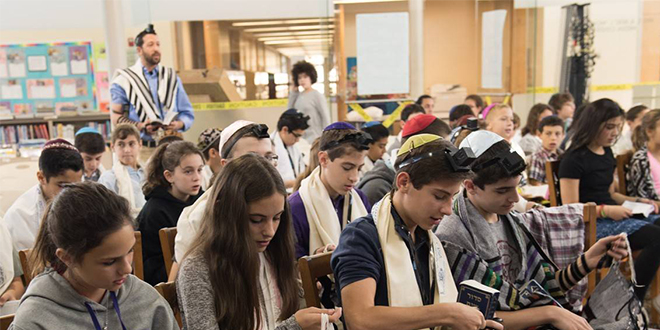 by Randy Boroff, Head of School
I joined the Schechter team, exactly one year ago, after working in the public school sector for over forty years. My experience in the public schools was enriching, rewarding and I will always be an advocate for public school education. While my career was focused in public education up until last year, this transition has really shown me how tremendous a day school education, particularly what we offer at Schechter, can be for a student and family. I have been repeatedly impressed with the students, faculty and curriculum at Gross Schechter. While there are always areas in which to grow, I have seen, first hand, the benefits that come with a Jewish Day School education. Allow me to share a few.
Dual Language: At Schechter, Hebrew is a living language and all of our students, even our youngest, begin learning Hebrew. We know from studies, knowledge learned through one language paves the way for knowledge acquisition in the second language. We often have alumni parents come back to Schechter to tell us how well their students are doing in new languages that they are learning in high school, whether it is Chinese, Spanish or American Sign Language.
Research on bilingualism shows that students with high levels of bilingual proficiency exhibit elevated levels of academic & cognitive functioning in comparison to students with monolingual or low bilingual skills. We know that learning two languages simultaneously is increasing the ability for our students to excel in all areas, and we see it here every day.
High bilingual students feel most comfortable interacting with students of other backgrounds and demonstrate more positive attitudes toward school than medium or low bilinguals. We want our students to become global citizens who understand that we are fortunate to live in a diverse world. In learning multiple languages, our students get a wider world view that prepares them to be more concerned citizens.
Jewish Identity: Finding joy in Jewish living is one of the values we hold dearly at Schechter. We want our students to find joy in being Jewish and to learn text, history, tefillot, literature, jewish rituals and more so that they are armed with the information they need to make choices in their lives. We want our students to feel comfortable in any Jewish setting and give them the tools to do so, for the rest of their lives.
Integrated Curriculum: In providing our students with an outstanding integrated education, one that connects what they are learning across all areas, we are giving our students a gift. They have the ability to deepen their critical thinking skills, have improved abilities to multi-task, problem solve and leave our building well prepared for their next academic chapter.
Community: At Schechter, we are more than just a school, we are a community. We are here to celebrate each other's simchas and to provide support during more difficult times. We believe in contributing to our community and participate in regular community service (tikkun olam). Our families also connect through shared experiences and build meaningful Jewish communities together.
Love of Israel: Our students learn about Israel from the moment they set foot on our campus. Every morning begins with Hatikvah, Israel's national anthem, and throughout their years at Schechter, students learn about Israel's history, agriculture, culture and more. The Eighth grade Israel trip is formidable in the students' lives, providing memories for a lifetime. We know that as our students graduate, they can speak passionately about Israel, engage in debate about some of the more challenging issues that Israel faces and feel confident in their love and knowledge of the country to participate in any discussion that arises.
Mensch: At Schechter, we want our students to be good people. We want to partner with you to raise young people who grow to be knowledgeable Jews, contributing citizens of the people of Israel, Cleveland, the United States and our world. We want them to feel a sense of responsibility for the world, care for one another and set examples for others. We emphasize this by recognizing our students when they do menschlekeit things.
We're part of a greater network...that just got bigger! We've always been a member of the Schechter network, which provides our school and teachers with resources, a community of colleagues with whom to talk through challenges or ideas and a framework by which we can measure what we do at Schechter with other schools in the country. This network just got even bigger with the merge of the Schechter Network, RAVSAK, PEJE, Pardes, and the Yeshiva University School Partnership. This will mean more professional development opportunities, more resources focused to day school education and more partnership between schools. We all win with the formation of this new support network.
With enrollment season upon us, I hope looking at some of these benefits will be helpful to you as you make your decisions for next year. We hope that you see these opportunities reflected in your students.
---
Related Items