01/27/2020
Why I Volunteer at YLDay of Caring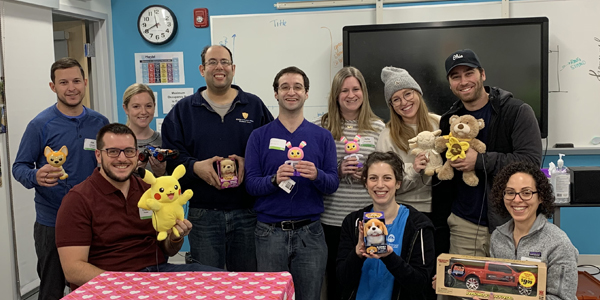 Several young leaders and their families made an impact on Jewish Cleveland on January 26 at the 2nd annual YLDay of Caring Across Cleveland!
This year, sites for the special volunteering effort included Montefiore, Cleveland Chesed Center, RePlay for Kids at Mandel JDS, Cleveland Kids' Book Bank, and exercising with Horvitz YouthAbility of JFSA at Beachwood High School.
Read what YLD Board member, Julie Schneider; YLD Vice Chair, Abbie Pappas; and YLD Board Chair, Cameron Orlean had to say about being a part of the day:

Julie Schneider:
I spent the morning at Mandel JDS with representatives from Replay for Kids, adapting battery-operated toys for children with disabilities. It was fun, challenging, and overall, a very rewarding experience.

Abbie Pappas:
I spent YLDay of Caring Across Cleveland at Montefiore. All of the volunteers were families with young children. It was so fun to watch kids and their parents together do a wonderful mitzvot (good deeds) by interacting with the residents playing various card games and board games. I think they really enjoyed seeing the smiling young faces.

Cameron Orlean:
I really enjoyed working at the Cleveland Chesed Center! So cool to see our overall impact significantly multiplied by hosting volunteer opportunities at multiple locations simultaneously.

Check out the rest of the photos from YLDay of Caring Across Cleveland.
For information on how you can get involved in future YLD events, contact Hannah Giterman at hgiterman@jcfcleve.org or 216-593-2872.