03/01/2017
Why We Love Kol Israel Foundation
Featured Volunteer Opportunity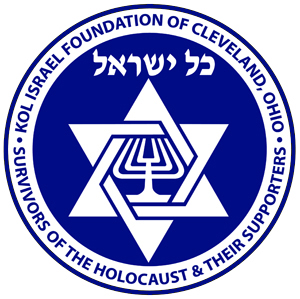 An estimated 1,000 Holocaust survivors live in the Cleveland area; the Jewish Federation of Cleveland is a lifeline to basic needs such as food and medicine as well as social interaction and transportation needs. Whether survivors are living locally, nationally or internationally, our Cleveland community is there to help this vulnerable population age with dignity.
Kol Israel is a non-profit organization of Jewish Holocaust Survivors, their families and supporters.
Since 1959, Kol Israel has carried on its mission of honoring and preserving the memories of these Survivors..
"I'm so proud of what we have in Cleveland; the Federation and the community really care about these people and they can feel that," said Gilda Katz, Coordinator of Holocaust Survivor Support Services at JFSA. "They're our teachers. We have to learn from them. We can learn so much from them."
Kol Israel provides meaningful Holocaust education and memorial programs throughout Northeast Ohio and preserves and shares the eye-witness narratives of Survivors through presentations -at no cost- to schools and educational and religious institutions.
Kol Israel recognizes the importance of preserving memories and sharing the stories of survivors. The organization has created a series of short videos with personal testimonies and photos. These videos help put a face on history.
Join us in supporting local survivors and their families through our featured volunteer organization for the month of March.
This important volunteer opportunity requires sensitivity, commitment, and a sense of storytelling or memoir writing. The volunteer will view an original (2-3 hour) Survivor testimonial video and create a short 15-20 minute script. They will also need to select photos and assign them to the appropriate sections of the script to help tell the story.
A videographer will utilize the script to create a 15-20 minute video that describes the survivor's life and experiences before, during, immediately after the war, and life in Cleveland.
Requirements:
Commitment to create one 15-20 min. presentation script within 2 months time.
Work from your own home and at your leisure
Basic computer knowledge of and access to: Word, Internet, PhotoShop or similar.
No video production required.
Training will be provided.
For more volunteer opportunities with Kol Israel Foundation or other organizations, contact Susan Hyman at 216-293-2887 or shyman@jcfcleve.org.
---
Related Items