09/27/2017
Why We Love Mandel JCC Lunch Plus Program
Featured Volunteer Opportunity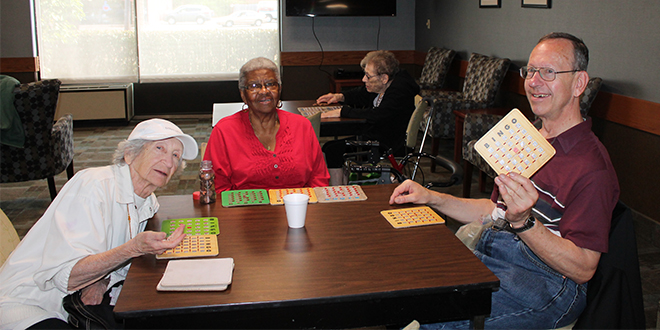 As we begin the New Year, we reflect on the past but look toward the future – how can we make a difference? The Mandel JCC Lunch Plus Program is a warm and caring place, whether it's serving meals or just helping out with a bingo game. With our community's support of the Campaign for Jewish Needs, programs like Lunch Plus can help care for seniors, as we aspire to leave no one behind.
It feels good to give back because the Lunch Plus program serves more than just lunch – it's a lifeline to nourishment, friendship, and independence. As we care for our most vulnerable, this program is vital and important to seniors in need.
The Mandel JCC Lunch Plus Program serves hot kosher lunches six days a week in the Warrensville Community Apartments dining area. It also provides free activities and services, for adults 60 and over, that encourage seniors to maintain independent lifestyles through exercise and social opportunities.
"It's important for people in Jewish Cleveland to know that there are people in need who don't have many resources," said Amy Aschkenasy, Lunch Plus Program Coordinator. "You're supporting your neighbors, who are not as fortunate as us. You're providing a lifeline for people so they can get through their day."
Volunteer Information:
Food Distribution and Bingo Callers JCC Lunch Plus Program
The Mandel JCC's Lunch Plus offers a variety of activities Sunday – Friday at Warrensville Community Apartments, including bingo, exercise, live entertainment (musicians, animal shows, magicians), speakers, shopping trips, Jewish holiday celebrations, monthly health screenings (blood pressure, blood sugar, weight monitoring, hearing/vision screenings) and a Visually Impaired Support Group.
The JCC Lunch Plus program distributes fresh produce to participants on the last Tuesday of the month. Volunteers are needed to distribute food bags from 11:30 am – 12:30 pm. They are also looking for Bingo callers from 12:30 pm – 1:30 pm on Tuesday's and Thursday's.
Location:
Warrensville Community Apartments
1500 Warrensville Center Rd.
Cleveland Heights, OH 44121
Registration deadline:
October 13, 2017

For this volunteer opportunity or more information on IMPACT!, contact Susan Hyman at 216-593-2887 or shyman@jcfcleve.org.
---
Related Items