04/25/2018
Why We Volunteer with 'Open Heart Magic'
Featured Volunteer Opportunity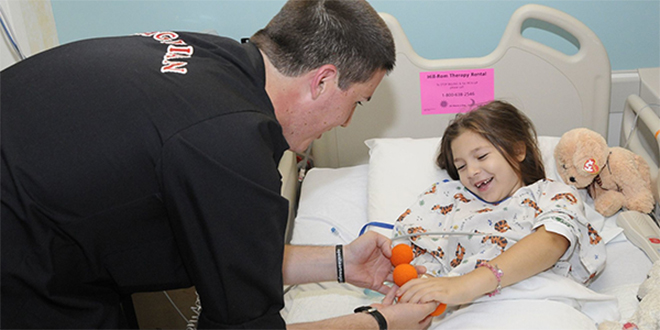 Laughter is the best medicine, but a little bit of magic never hurt either!
Do you have a passion for magic, volunteering, and cheering up children in hospitals? That's where Open Heart Magic comes in. This unique organization teaches magic to community members, who then bring laughter, hope, and strength to sick children in their hospital rooms – lifting the spirits of children, so they can benefit from this entertaining and empowering therapy.
This is a volunteer opportunity for anyone. You don't need to be David Copperfield – NO PRIOR MAGIC BACKGROUND REQUIRED!
Volunteer hospital magicians are trained to work with all children in a hospital, regardless of their age, medical conditions, or physical abilities. Open Heart Magic has partnered with the Cleveland Clinic to empower young patients with their proven Bedside Magic™ program. Today, specially trained Hospital Magicians are supporting the work of some of the finest nurses and doctors in medicine – by giving sick kids the strength and hope they need to keep fighting to get better.
---
Become a Bedside Hospital Magician: Enter Magic University and become a specially trained bedside hospital magician to help sick kids at the Cleveland Clinic get their magic back!
Hospital magician candidates work hard during 12 weekly, two-hour Magic University sessions as well as independently throughout the week. Candidates have opportunities to practice their magic performance — and their approach to teaching kids magic — in front of our experienced trainers. To be certified, candidates must pass 3 protocol quizzes and 3 comprehensive evaluations testing the knowledge they've gained from Magic University.
Registration deadline:
May 17, 2018
Depending on interest, an Information Night will be held at the Jewish Federation for potential volunteers to hear more about becoming a Bedside Hospital Magician.
For more information about volunteering with Open Heart Magic or other organizations, contact Susan Hyman at 216-293-2887 or shyman@jcfcleve.org.
---
Related Items